Is the 'Momentum' for Action on Climate Change Unstoppable?
"Acknowledging the uncertainty we are all feeling with regard to the changes in the political situation in the United States."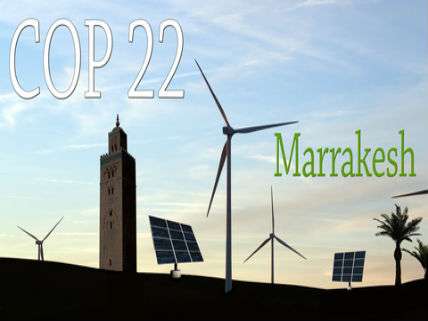 Marrakech—Anxiety about where U.S. climate policy is likely to go under the Trump administration is pervasive at the COP22 U.N. climate change conference. As a consequence, the meeting rooms in the tents at the Bab Ighli conference center are packed whenever members of the official U.S. delegation appear in press conferences and panel discussions. Keeping a stiff upper lip, they steadfastly decline to speculate on what incoming officials in the Trump administration might do.
These anxieties were nicely summarized by a question/statement by PR Watch reporter Alex Carlin at a press conference featuring John Pershing, the Obama administration's special envoy on climate change. "Addressing the transition, when the new guys come in and you're in a meeting with those people, we have a new situation that is unprecedented. Their policy is not an adult rational policy based on math or science; it's something else. Dealing with an existential problem for the planet, you have two questions: can you appeal to them on a basic, rational level, in other words, educate them, number one? Can you set up any kind of symposiums where you educate them that two plus two is four and not five?," asked Carlin. "And second, can you demonstrate to them that if they continue with this childish position, we, America, will lose our status, we will become a pariah state; we will be humiliated?" PR Watch is a project of the self-described "nonprofit liberal watchdog and advocacy organization" the Center for Media and Democracy.
Noting that he and other Obama administration officials currently in charge of climate change policy don't yet know who is on the Trump transition team, Pershing diplomatically replied, "We will certainly work to convey the importance that we find in this issue to them as they move forward."
The diplomatic tack of refusing to speculate on Trump administration climate policy was also taken by Brian Deese, who is a senior advisor to President Obama on climate, conservation and energy policy during a session on U.S. Climate Action at All Levels on Tuesday. Nevertheless, Deese, like many other participants at COP22, argues that the "momentum" for action on climate change is unstoppable.
Deese pointed out that the U.S. economy grew by 10 percent while carbon dioxide emissions fell by 9 percent since 2008. This is longest stretch in U.S. history in which economic growth has been decoupled from an increase in greenhouse gas emissions. He asserted that the fact that an economy can grow at a healthy rate without increased emissions is an important signal of structural shifts and in markets. Healthy growth rate? Deese discreetly neglected to note that U.S. economic growth under President Obama has been the slowest since World War II. It is worth noting, however, that total energy consumption in the U.S. has been falling which suggests that energy sources are not just decarbonizing but are becoming more efficient too. "The principle takeaway is that the trajectory in which our economy will continue to grow and carbon emissions will continue to fall will be sustained and move forward in the future," declared Deese.
Progressive U.S. States Go Their Own Way on Climate Policy
Deb Markowitz Secretary of Natural Resources for Vermont was next up. She opened with the observation that the meeting hall was packed "probably because of your concerns" about what "he who shall not be named" might do with regard to U.S. climate policy. The Voldemort reference did get a chuckle out of the audience. Her role was to argue that even if the Trump administration backtracked on climate change policies that progressive states like hers would continue to push them forward. It is amazing how ideologically blinkered Markowitz is.
Markowitz started out by claiming that "we've been through this before" when the Bush Administration withdrew from the Kyoto Protocol in 2001. Garbling history, Markowitz also suggested that a Republican Congress had somehow prevented President Obama from moving forward with a comprehensive climate change deal at the Copenhagen conference in 2009. Actually, the Democrats had majorities in both the Senate and House of Representatives in 2009.
Secretary Markowitz continued to self-confidently make a series of interesting claims about the success of her "small rural state" in addressing climate change. For example, she said that 1 in 20 jobs in Vermont are now in the solar power industry thanks for tax incentives and regulatory reforms. She didn't mention that electricity costs 50 percent more than the U.S. average in the Green Mountain State. She did praise the Regional Greenhouse Gas Initiative cap-and-trade carbon dioxide auction market to which Vermont and other northeastern states have belonged since 2009 for generating "revenue to put into energy efficiency programs and other greenhouse gas reduction efforts." Or as an April 2016 Congressional Research Service study plainly put it: "The auction proceeds—over $2.4billion to date—have provided a new source of revenue, which has been used to support various policy objectives."
Markowitz, noting the building new coal-fired power plants is not economic, was properly dismissive of Trump's promises to bring back coal jobs. "There are no coal mining jobs if nobody is buying coal," she said. Markowitz failed to mention that while coal-fired generation fell from 21 to 7 percent of the RGGI states' electricity between 2005 and 2015, natural gas generation rose from 25 to 41 percent. Although, Vermont does not have the appropriate geology to obtain natural gas from fracking shale, Markowitz has previously lauded the fact that the state was the first in the nation to ban the practice. By the way, electricity from renewable energy sources among the RGGI states increased from 2.5 to just over 5 percent during that period.
Moderator World Resources Institute Global Energy Director Jennifer Layke asked the panel what words of advice they might offer the international community in the current context. Markowitz jumped in suggesting that there were great co-benefits to be obtained from enacting climate control policies. Such as? "If we changed our agriculture from the chemical-laden mega-farm approach to organic systems that would make a tremendous difference," she asserted. This transition to organic would create sinks in which soils would sequester excess carbon from the atmosphere. On the other hand, organic crop yields are about 25 percent lower than those obtained from conventional farming, which implies plowing up more land to grow food.
Markowitz proudly noted that Vermont is 80 percent forested. She claimed that the state is now "incenting" landowners to manage their forests with climate change in mind. She is apparently clueless about how it is that Vermont's forest cover increased from 63 percent in 1948 to 80 percent today. The U.S. Forest Service reported that the state experienced "a steady increase in forest cover as lands were reforested due to the abandonment of farmland." In fact, the acreage in Vermont's farmland has fallen by more than 75 percent since 1948. Of course, this is because modern farming produces so much more from much less land.
Moderator Layke closed the panel discussion with thanks to President Obama for his leadership on climate change, and ended on a down note by saying that she must "acknowledge the uncertainty we are all feeling with regard to the changes in the political situation in the United States."
Tomorrow: Keeping carbon in the ground.