Chicago's Airbnb Rules Are Unconstitutional Many Times Over, Lawsuit Argues
Regulations are "draconian and unintelligible," lawsuit says. Other have described them as "literally incomprehensible" and "dizzyingly complex."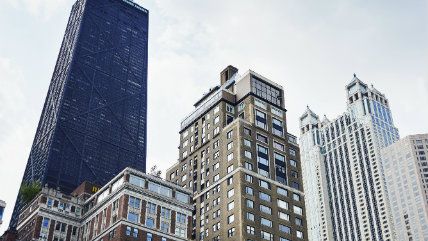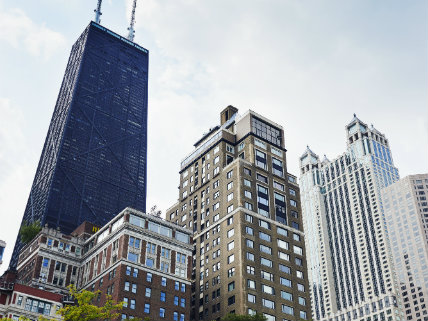 The city of Chicago is violating constitutional rights, hurting communities, and punishing responsible home owners with its new rules for Airbnb and other short term rental services.
Those are just a few of the arguments made in a sweeping lawsuit filed Tuesday in Illinois Circuit Court by four Chicago homeowners who say the city's new rules would subject them to warrantless searches and discrimination while also violating their rights to equal protection under law.
The short term rental ordinance passed in July by the city council would require all homes listed on short-term rental sites like Airbnb or VRBO to be registered with the city and subject to inspections by city officials "at any time and in any manner." Homeowners are also responsible for collecting personal information about their guests, which must be turned over to the city upon request—there's nothing in the ordinance requiring city officials or law enforcement to provide probable cause or a warrant before demanding that information or conducting a search.
"Through these provisions, the ordinance delegates unlimited and unbounded discretion to city officials to seize personal information for any reason and at any time," the lawsuit argues. The Arizona-based Goldwater Institute and the Illinois-based Liberty Justice Center provided the attorneys representing the four plaintiffs.
Chicago's Department of Business Affairs and Consumer Protection, which is responsible for enforcing the Airbnb rules, did not immediately return requests for comment on the lawsuit. The ordinance passed the city council in June with a 43-7 vote.
The lawsuit also challenges a part of the ordinance allowing homeowners to rent-out only their primary residence. That's supposed to prevent businesses from acquiring Chicago apartments for the sole purpose of using them for short-term rentals.
One of the plantiffs in the case, Sheila Sasso, lives in Maricopa County, Arizona, but also owns a condo in Chicago. The lawsuit argues that preventing her from renting her Chicago condo is a violation of the constitutional right to equal protection under the law and a violation of the U.S. Constitution's Commerce Clause by discriminating against out-of-state residents.
The regulations also contain an arbitrary cap on the number of units that can be rented within a single building. Some apartment buildings will be allowed to have only one unit listed on Airbnb at a time, while larger buildings have a cap of five short-term rentals at once. So if your neighbors are already listing their apartment on Airbnb, you're out of luck even if you comply with all the city's rules. Plaintiffs say that's another violation of due process.
"It imposes restrictions on home-sharing that are so confusing that few attorneys – much less ordinary homeowners – will be able to understand them," said attorneys for the Goldwater Institute and the Liberty Justice Center in a joint statement. "Yet homeowners who fail to comply with these unfair and confusing regulations can be shut down, fined, or even imprisoned."
Homeowners in Chicago are the big losers under the new rules, but the city stands to lose too. Airbnb rentals in Chicago accounted for more than $200 million in economic activity as 320,000 guests traveled to Chicago with Airbnb between July 2014 and June 2015. Those visitors provided $152 million in direct spending for the city, enough to support 2,100 jobs and pay $2.5 million in tax revenue, according to Airbnb's data.
This is the second lawsuit to challenge Chicago's homesharing rules. The first lawsuit, filed in U.S. District Court last week by Benjamin Wolfe, a resident of Chicago, argued that "ordinary citizens would never read or fully understand" the 58 pages of rules for short term rentals apporved by city council.
Whether you read and understand them or not, Airbnb hosts found to be in violation of the city's regulations could face fines of up to $5,000 per violation, per day.
That first lawsuit called Chicago's Airbnb rules "literally incomprehensible." Now you can add "draconian and unintelligible" to the list of colorful descriptors—that's how the regulations are termed in the new lawsuit filed Tuesday—for the city's 58-page rulebook. The Chicago Tribune has gotten into the game too—the newspaper described the ordinance as "dizzyingly complex" when it was approved by the city council in June.