Game Over for the Climate?
First dispatch from COP22: Trump, Peak Carbon Dioxide, and Extreme Weather Events.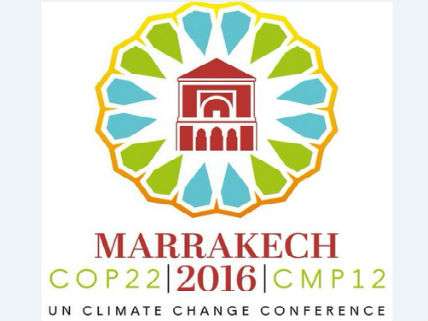 "The American people are very engaged and committed to the fight against climate change," asserted Moroccan Foreign Minister Salaheddine Mezouar at a press conference on Saturday at the U.N. climate change conference in Marrakech. Mezouar, who presides over the conference, also declared that "negotiations are going well" and noted that 105 Parties have now deposited their instruments of ratification of the Paris Agreement on climate change. Some 20,000 negotiators and climate activists from over 190 countries are convening in Morocco at the 22nd Conference of the Parties (COP-22) to the U.N. Framework Convention on Climate Change (UNFCCC). Some 1,500 journalists are accredited to report on it.
With regard to the engagement of the American people in the fight against climate change, the most recent Gallup poll on the topic did find that 64 percent of Americans surveyed worry a "great deal" or a "fair amount" about the phenomenon. On the other hand, Gallup reports that climate change is second from the bottom on a list of 13 national issues that concern voters.
The election of Donald Trump as the next president of the United States has provoked some dismay among the participants at COP-22. For example, Carbon Brief published a roundup of comments from climate scientists from around the globe. "The U.S. de-elected expertise and will likely show a blockade mentality now, so Europe and Asia have to pioneer and save the world," asserted Hans Joachim Schellnhuber, the head of the Potsdam Institute for Climate Impact Research. "Having a person in the position of US President who does not acknowledge scientific facts establishing the clear reality of human-caused climate change is a disgrace," concurred Bristol University cryosphere researcher Twila Moon. Danish glaciologist Jason Box said, "Those of us in the sciences are all about the rational and we surround ourselves by rational media. The U.S. election outcome reflects the irrational and how those voters were influenced by irrational media." And Pennsylvania State University climatologist Michael Mann succinctly observed, "To quote James Hansen, I fear this may be game over for the climate."
COP-22 is not just about climate negotiations, but also showcases findings from the latest research. On Monday, the Global Carbon Project released its most recent analysis of carbon emissions trends. Interestingly, the analysts report that "global carbon dioxide emissions were almost flat for the third year in a row, despite strong economic growth." During the first decade of this century carbon dioxide emissions from fossil fuels and industry grew at over 3 percent per year, but growth slowed in the 2010s and in the last three years levelled off at around 36.4 billion tonnes of carbon dioxide. This flattening in global emission appears largely to be a result of a slowdown in the use of coal China to generate electricity.
In addition, U.S. emissions have generally been falling since 2007, dropping a further 2.5 percent in 2015 and are projected to go down 1.7 percent in 2016. "It remains to be seen whether US emission reductions will be sustained if president-elect Trump rolls back key environmental policies as promised in his election campaign", said report co-author Jan Ivar Korsbakken, who is a senior researcher at the Center for International Climate and Environmental Research – Oslo.
In any case, concentrations of carbon dioxide in the atmosphere passed and stayed above the 400 parts per million threshold for the first time. Pre-industrial concentrations were about 280 parts per million. This year also is on track to tie with 1998 as the hottest year in the global satellite temperature record.
During the first week of COP-22, the World Meteorological Organization published its The Global Climate in 2011-2015 report. "The five-year period from 2011 to 2015 has been the warmest five-year period on record globally, with 2015 being the warmest year on record to date," notes the report. The report also claimed that the "record temperatures were accompanied by rising sea levels and declines in Arctic sea-ice extent, continental glaciers and northern hemisphere snow cover."
The rate of sea level rise has recently risen to 3 millimeters per year, up from 1.7 millimeters annually. Interestingly, the WMO calculates its 1.7 millimeter rate from 1900 to 2010 which would imply that sea level rose by a bit over 7 inches during that period. At the higher rate of increase, sea level would be about 10 inches higher than at present by 2100. According to National Oceanic and Atmospheric Administration data northern hemisphere snow cover has been trending downward at a rate of half a million square miles per decade and Arctic sea ice extent is dropping at a rate of 7.4 percent per decade since 1981. Most mountain glaciers are also melting away.
In addition, the new WMO report updates the findings in its 2015 study and finds that more than half the studies published analyzing extreme climate events in the Bulletin of the American Meteorological Society between 2011 and 2014 conclude that human-induced climate change contributed to them with some studies finding that the probability of extreme heat increased by 10 times or more.
I will be reporting daily dispatches from the Marrakech conference for the rest of this week.