Donald Trump's Massive Learning Curve, Hate Crime Stats Released, Gwen Ifill Dies: P.M. Links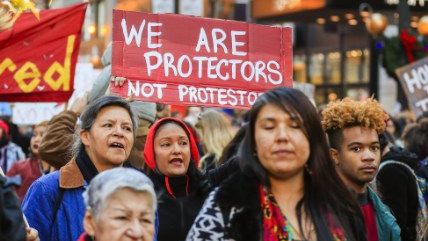 (Tannen Maury/EPA/Newscom)
Tannen Maury/EPA/Newscom

President-Elect Donald Trump was allegedly unaware that he would be replacing the entire White House staff.

President Barack Obama gave a press conference this afternoon where he was mostly questioned about Trump's election.
FBI released hate crime stats for 2015. The number of reported hate crimes increased by just 6.7 percent, but there was a big surge in reported hate crimes against Muslims. (The flat numbers are not huge, however.)
PBS Journalist Gwen Ifill has died of cancer at age 61.
A Michigan police officer was suspended and is under investigation for driving a truck bearing a confederate flag at an anti-Trump rally.
Opponents of the Dakota Access pipeline are planning nationwide protests. Do they know about the other nationwide protests already happening that are sucking up all the attention?
Two social workers in Detroit are being charged with involuntary manslaughter and more in the death of a 3-year-old for failing to follow up on the child after discovering he was living in a home with inadequate food. The boy's mother faces several charges for his death.
A federal judge has ordered the supervised release of Brendan Dassey, one of the subjects of Making a Murderer.
Follow us on Facebook and Twitter, and don't forget to sign up for Reason's daily updates for more content.