Does Trump's Commitment to NATO Preclude Rethinking Relationships?
Based on everything seen on the campaign trail, no it doesn't.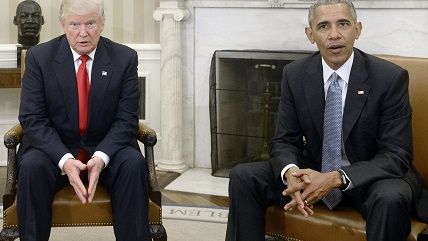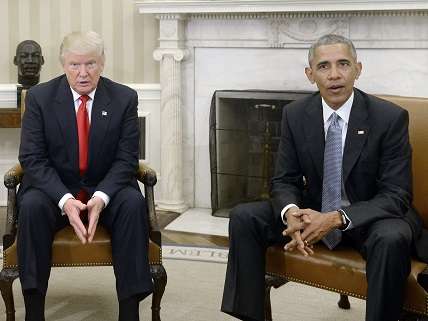 President-Elect Trump is interested in maintaining "core strategic relationships" with NATO and Europe, President Obama said in a press conference today, also saying that while he had his concerns he was hopeful that Trump would "make things better" overall.
Obama heads to Europe later this week for his last trip there as president. He said at today's press conference he was happy to be able to tell European leaders Trump remained committed to U.S. relationships with Europe. Separately, in an interview with the Greek newspaper Kathimerini Obama said he believed the "best chance for progress" was "to resist the urge to turn inward and instead reinvigorate our shared values and work together."
"Europe is our largest economic partner and we have a profound economic interest in a Europe that is stable and growing," Obama said in the interview. European foreign ministers met formally in Brussels today and had informal, closed-to-media dinner talks yesterday about Trump's election. The European Union has indicated it takes Trump at his word on trade and believes the Trans-Atlantic Trade and Investment Partnership would have to be renegotiated, according to The National. "There is strong reason to believe that there would be a pause in TTIP, that this might not be the biggest priority for the new administration," Cecilia Malmstroem, the EU trade commissioner, was quoted as saying.
After Trump's election, European leaders reached out to Trump. NATO Secretary-General Jens Stoltenberg called to congratulate the president-elect and invite him to the next NATO summit in Brussels next year. "We face a challenging new security environment, including hybrid warfare, cyber attacks, the threat of terrorism," Stoltenberg said. "NATO has responded with determination to the new security situation. But we have more work to do."
During the campaign, Trump stressed that the U.S. relationship with NATO would have to be revisited. His apparent pledge to maintain relationships with NATO and Europe doesn't preclude re-visiting the nature of U.S. obligations to NATO, a post-World War II Cold War organization that has not substantively reflected on its structure or even usefulness in a post-Cold War world. America would be richer and safer if Europe paid for its own defense, and it would be worth Trump pursuing that goal.
Meanwhile, Jean Claude-Juncker and Donald Tusk, the presidents of the European Commission and the European Council respectively, sent Trump a congratulatory letter where they invited him to attend an EU-U.S. summit "at his earliest convenience."
"Today, it is more important than ever to strengthen transatlantic relations," the two wrote to Trump. "Only by cooperating closely can the EU and the US continue to make a difference when dealing with unprecedented challenges such as Da'esh (ISIS), the threats to Ukraine's sovereignty and territorial integrity, climate change and migration."
Russia was a big topic at this week's summit, with European leaders reportedly, and understandably, concerned about how Trump's presidency would affect their own increasingly frosty relations with Russia over issues like Ukraine and pipelines. During the campaign, Trump repeatedly said he believed better relations between Russia and the U.S. were a good thing. Trump and Russia President Vladimir Putin spoke on the phone, and according to a Kremlin read-out, the two agreed that relations were "extremely unsatisfactory" and that they wanted to work to "normalize U.S.-Russia ties" and "return to pragmatic, mutually beneficial co-operation."
Trump often struck an anti-establishment tone on foreign policy in the campaign. It remains to be seen the kind of counsel he chooses now that he will soon be president, but the prospect that Trump could offer a much needed and overdue re-evaluation of the U.S. security obligations to Europe and around the world, for now, remains.