Voters in Washington State Give Judges Power to Violate Gun Owners' Due Process
Gun control initiatives pass in Washington and California, still too close to call in Maine and Nevada.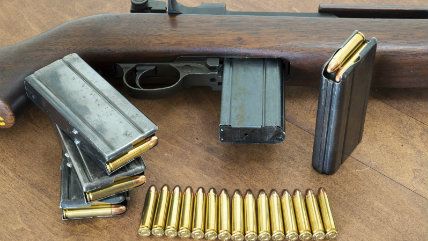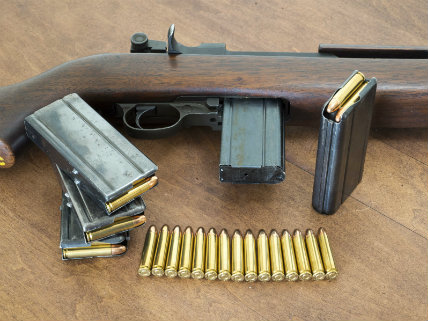 Voters in Washington State approved a ballot measure to let state courts strip individuals of their guns of they are determined to be an "extreme risk" to the safety of others and California voters approved a new licensing law for individuals who wish to buy ammunition for firearms.
More than 70 percent of voters in Washington had approved Measure 1491 with 64 percent reporting. The initiative gives broad power to courts to regulate who can possess firearms and draw rebukes from the ACLU for being a violation of due process because it puts the burden of proof on the accused to show why a court order should be lifted. The measure allows anyone—from family and friends to law enforcement—to request a court order removing an individual's right to own guns.
That comes on the heels of a 2014 initiative in Washington State that imposed gun control laws similar to this year's measures in Maine and Nevada.
California's initiative builds upon a state law passed in July requiring business that sell ammunition to obtain a special state license. With the passage of the initiative, individuals who want to buy ammunition will also have to obtain a state permit before doing so. By early Wednesday morning, more than 63 percent of California voters had supported the measure.
In both places, the new laws will make it harder for law-abiding gun owners to purchase firearms and ammunition, but it's hard to tell how the additional rules will prevent criminals from accessing guns on the black market.
In Nevada and Maine, initiatives to require a FBI background check before a sale or transfer of guns can take place were too close to call on Wednesday morning. Both initiatives would require gun purchases to happen through a state licensed firearms dealer. (Update: the Nevada initiative appears to have squeaked by, winning by about 10,000 votes)
One of the top contributors to the "yes" campaigns in all four states was Everytown for Gun Safety, an organization founded by then-New York City Mayor Michael Bloomberg in 2006, when it was known as Mayors Against Illegal Guns. The group changed its name after the 2012 school shooting in Newtown, Connecticut, and now pushes for both state and federal governments to expand background checks for gun purchases.
Everytown for Gun Safety spent more than $5.2 million in Maine and over $13 million in Nevada pushing the initiative, according to campaign finance data tracked by Ballotpedia.
In California, groups in favor of Proposition 63 spent more than $4.5 million—with more than $1.1 million coming from the California Democratic Party—on the campaign, compared to less than $1 million spent by opponents.
While gun control groups like Bloomberg's have spent big bucks this year pushing these four initiatives, the National Rifle Association has largely sat out the election. That may be because the NRA believes it will be able to overturn these new laws in court.
"That may be the strategy, to beat this thing in court, rather than try to fight what seems like a quote-unquote 'common-sense measure' at the ballot box," Dave Workman, a senior editor at the Second Amendment Foundation, told NPR last week.