Will 'America's Toughest Sheriff' Become America's Most Unemployed Sheriff?
Tuesday could be the swan song for the infamous Sheriff Joe, who is dragging in polls and facing criminal contempt charges.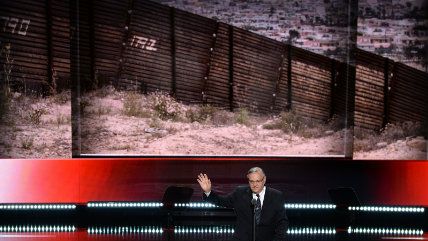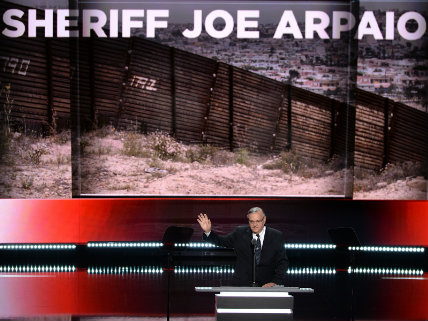 By Tuesday night, the long and controversial reign of Maricopa County Sheriff Joe Arpaio, the media-seeking face of America's "tough-on-crime" brand of justice, could be another political casualty of Donald Trump's anti-immigrant rhetoric and changing U.S. opinions on crime.
The Arizona sheriff is in the fight of his political life, facing millions of dollars in attacks from super PACs and a grassroots Latino get-out-the-vote effort emboldened by Trump—not to mention criminal contempt charges that led Reason to ponder if he could end up wearing pink underwear in his own jail.
All of these factors have dragged down Arpaio's once-sturdy favorability ratings and poll numbers in Maricopa County, where he has cruised to victory five times since being elected in 1993.
Arpaio made a name for himself with his unconventional and demeaning jail, where inmates live in a tent city in the sweltering desert heat and wear old-timey striped uniforms, as well as the aforementioned pink underwear. He further raised his national profile by ordering large-scale sweeps of Latino neighborhoods and traffic stops of Latino drivers to round up illegal immigrants. His litany of offenses against decency and constitutional principles led Reason to name him one of its "45 enemies of freedom" in 2013.
But for being such an outspoken proponent of the rule of law, Arpaio has never been a fan of the law as it applies to himself. He repeatedly flouted orders by a U.S. district court judge to improve the conditions inside the jail and cease the unconstitutional racial profiling of Latinos, leading the U.S. Attorney's Office to charge him with criminal contempt of court in mid-October.
Despite condemnations from national civil rights groups and federal courts, Arpaio has largely been politically untouchable. In 2012, Arpaio won reelection by six points, and in 2008 he clobbered his opponent by 13 points.
This election, however, has been different.
Arpaio has been an outspoken supporter of Trump, and Trump has returned the favor. The huge unfavorables that have haunted the Trump campaign appear to be dragging down Arpaio as well. A mid-October poll by the Morrison Institute and Arizona Republic found Arpaio trailing his opponent, retired Phoenix police officer Paul Penzone, by 15 points. The Morrison Institute found Arpaio's unfavorable rating with white voters at 53 percent.
"I don't know that anyone can say with confidence, if Arpaio is voted out or if Clinton wins in Arizona, whether that really means we're a purple or blue state going forward," Thom Reilly of the Morrison Institute told the L.A. Times. "But his deficit is significant."
Other polling is scant, but if any election could be the one to unseat Arpaio, it's this one, and local and national groups have poured all their resources into trying to make it happen.
Arpaio has been hit with a torrent of out-of-state money opposing him. Politico reported Friday that Maricopa Strong, a super PAC connected to liberal mega-donor George Soros, had spent $2.9 million in ad blitzes against Arpaio. Soros is dropping millions of dollars in local law enforcement races across the country this cycle in attempt to oust conservative district attorneys and sheriffs.
Arpaio's campaign filed a complaint in late October accusing the group of violating campaign finance laws. "It's bad enough that a far-left globalist like George Soros is trying to buy a Sheriff's Office here in Maricopa County, but now we see they're breaking the law in an effort to do so," Arpaio campaign spokesman Chad Willems said in a statement to the Arizona Republic. "The voters of Maricopa County should be outraged."
Meanwhile, the group Bazta Arpaio ("stop Arpaio") has been mobilizing Latino voters to get the polls Tuesday. Those efforts have contributed to Arizona leading the nation in early voting by Latinos, another grim sign for the Arpaio campaign.
Bazta Arpaio and other groups plan on holding an "Arpaio retirement party" outside his Phoenix office on election night. If the vote swings the way activists think it's moving, it should be quite the party.