Porn Site Offers Tits for Votes in Clever Marketing Gimmick—Thanks, First Amendment!
CamSoda is offering voters free site credits if they snap a selfie at the polls and post it to social media.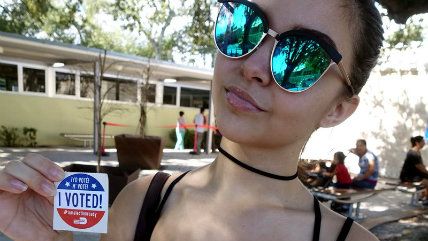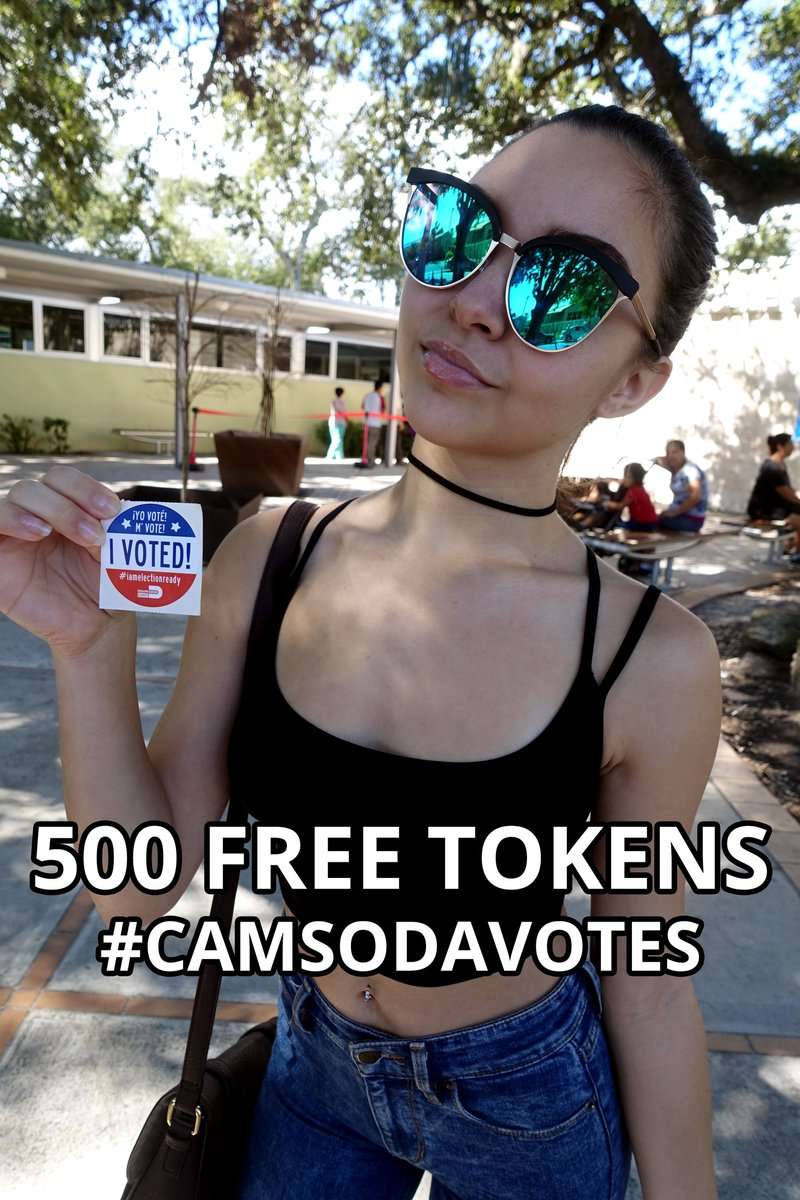 The folks behind adult-webcam site CamSoda are allegedly so worried about low voter-turnout Tuesday that they're offering free CamSoda credits to those who vote. "To encourage people to go to the polls and vote, we are offering everyone who casts a ballot 500 tokens (a $50 value) to spend on our site," the site announced, adding that the deal applies whether a person votes for "Trump, Clinton or even Ken Bone."
And, thus, CamSoda joins the mewling chorus of companies praising casting a ballot for its own sake. This morning alone, I encountered get-out-the-vote messages in my apartment-building elevator, upon checking my email, and then upon checking Facebook.
But while this fetishistic mass devotion to voting qua voting is annoying, there's something to celebrate in CamSoda's election-themed marketing gimmick. In order to get the CamSoda tokens, voters must take a picture of themselves at the polling booth and post it to social media with the hashtag #CamSodaVotes.
In recent years, laws banning "ballot selfies" have passed in some states, including Tennessee—which is what prompted media hand-wringing recently when Justin Timberlake posted an Instagram photo of himself voting. Courts have returned mixed verdicts about the constitutionality of such laws, with judges in California and New York recently upholding the state's ban on posting photos of one's completed election ballot. But for the most part, judges have been treating these laws like what they are: unconstitutional restrictions on free speech.
Last week, U.S. District Judge Christine Arguello held that Colorado can't prosecute residents for sharing images of filled-out election ballots on social media. And in late October, a federal judge in Michigan held that the state's prohibition on ballot selfies violated the First Amendment. "The Court agrees with the Plaintiff that the interests in the integrity of the electoral process can be secured in a more reasonable manner than the blanket prohibition on citizens' photography," it ruled.
Last year, a new Indiana ban on ballot selfies was blocked by a federal court, as was one in New Hampshire. And the New Hampshire decision has already survived an appeal, with the U.S. Court of Appeals for the 1st Circuit in September upholding the lower court's ruling that ballot-selfie bans are unconstitutional.
Hence, because of the First Amendment, you can safely earn free porn credits by posting your own voting-porn to social media. Thanks, Founding Fathers!