Support for Legal Abortion at Highest Level Since 1995, But Partisan Gap Widening
The gap between Republicans and Democrats on abortion is at its widest point in nearly 10 years.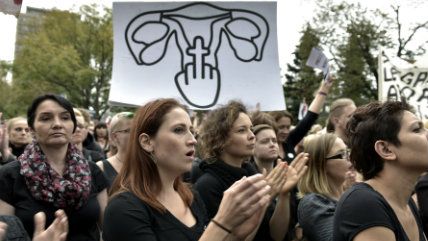 (Attila Husejnow/newzulu/Newscom)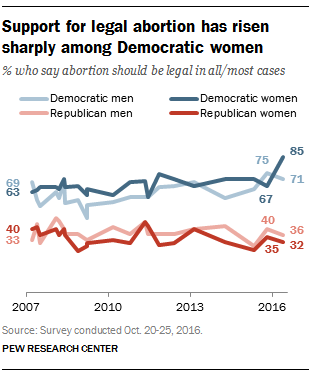 The percentage of Americans who believe abortion should be legal in all or most circumstances is at the highest it has been in more than two decades, according to the latest national poll from Pew Research Center. In the October 20-25 survey, 59 percent of respondents said abortion should be generally legal, while just 37 percent said it should be banned in all or most circumstances. "Support for legal abortion has fluctuated in recent years," Pew noted, "but is at its highest level since 1995."
Among Republicans only, beliefs about abortion in the latest poll were almost directly inverse that of the general U.S. population, with 62 percent of Republican respondents saying abortion should be illegal in all or most cases and just 34 percent saying the opposite. There was little difference among men and women, with 32 percent of Republican women and 36 percent of Republican men expressing pro-choice views.
Meanwhile, more than three-quarters of Democrats (79 percent) say abortion should be legal most of the time—up from 70 percent in Pew's March survey—and just 18 percent say it should generally be illegal.
"The partisan gap in support for legal abortion, 45 percentage points, is at its widest point in close to a decade," Pew points out.
On the Democrat side, it's women who have driven the increase in pro-abortion sentiment since the Pew's March poll. In that one, 68 percent of Democratic women and 75 percent of Democratic men said abortion should generally or always be allowed. In October's poll, the percentage of Democratic men saying the same was down slightly, at 71 percent, but the percentage of Democratic women who said abortion should mostly or always be legal shot up 18 percentage points, to 85 percent.