The Presidential Race Is Still Not Close for Most Voters
At least three-fifths of the country is virtually uncontested.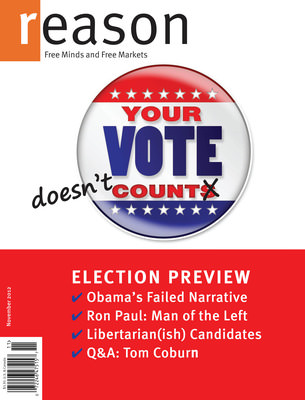 "The presidential race has tightened," runs yesterday's headline over at Vox. "Clinton still leads. Democrats should still worry." And it's true—on a national level, Hillary Clinton's recently comfortable lead over Donald Trump has jerked backward in recent days to just 2.2 percentage points in RealClearPolitics' poll average, down from 5.6 a week ago and 7.1 the week before that. This morning saw the highly rated ABC/Washington Post poll with a one-point Trump lead—the first time he has topped Clinton since mid-May.
But as much as we consume and process information about the presidential election on a national basis, it is on the state level where the thing is won and lost. And the fact is, this presidential election, like the one before it, is just not close in most states.
FiveThirtyEight publishes constantly updated odds for which candidate is most likely to win each state. As of yesterday afternoon and evening, the data-crunching site had estimated that the race was 99 percent or more locked in 13 states plus Washington, D.C., which combine for 162 electoral votes. They are: California, Massachusetts, Maryland, Alabama, Oklahoma, and D.C. (at 99.9% each); New York, Kentucky, and West Virginia (99.8%), Louisiana (99.6%), Arkansas and Idaho (99.4%), Hawaii (99.2%), and Wyoming (99.1%).
I live in New York and hail from California, and I cannot tell you how many people from either state have told me a variation on, "Well, I'd like to vote for Gary Johnson, but I'm just afraid the election will be too close." No. It. Won't. California went for Barack Obama by 23 percentage points in 2012, and is poised to choose Clinton by about the same margin this year. New York went +28 for Obama last time, and is around +21 for Clinton now.
More than half the country (26 states plus D.C.), representing a tick over half the Electoral College vote (271), is in 95 percent certainty zone, according to FiveThirtyEight. Bring the odds down to 90 percent, and we're talking 33 states plus D.C., and 342 electoral votes.
Perhaps you don't trust oddsmakers, or have a hard time wrapping your head around what, say, Texas's 91.9 percent odds actually means. OK, well, consider that 29 states plus D.C. currently feature polling leads of at least double digits for the second straight cycle. Here's a list, compiled by combining the poll averages of FiveThirtyEight and RCP; parentheses will contain the 2012 major-party point spread:
74: District of Columbia (84)
36: Wyoming (41)
28: Maryland (26)
27: Massachusetts (23), West Virginia (41)
26: Hawaii (43), Vermont (36)
25: Oklahoma (34)
24: California (23)
22: Idaho (32)
21: New York (28), Alabama (22)
20: Arkansas (24), North Dakota (20), Nebraska (22)
19: Kentucky (23)
17: Louisiana (17)
15: Tennessee (20), South Dakota (18)
14: Illinois (17), New Jersey (18), Rhode Island (27)
13: Washington (15), Connecticut (17), Maine (15), Montana (14), Delaware (19)
12: Kansas (22)
11: Mississippi (12)
10: Oregon (12)
Keep in mind that in none of the above states is a third-party candidate polling in double digits.
As happens every presidential election, the non-Democrat/Republican presidential nominees are fading in the final days: Gary Johnson and Jill Stein are at a combined 6.7 percent in RealClearPolitics' current polling average, down from 8.2 percent a week ago and 10 percent less than a month ago. To the extent that that reflects a genuine preference for other candidates, or even a desire to decisively punish the hated opposition, that's all well and good. But on-the-fence voters who are succumbing to gun-to-your-head logic (as in, "if you had a gun to your head, who would you vote for?") are well advised to check state polling and recent history before letting the major parties off the hook.