No, the U.S. Navy Isn't Battling Breast-Cancer With Pink Fighter Jets—But Israel Is
America's pink F9F-8 Cougar lives aboard the USS Lexington, a retired naval ship turned private Texas military museum.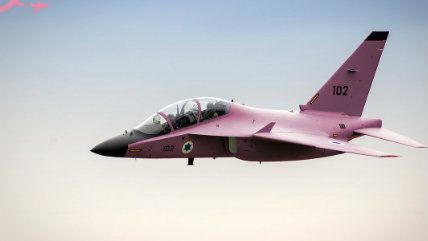 (Israeli Air Force (@IAFsite)/Twitter)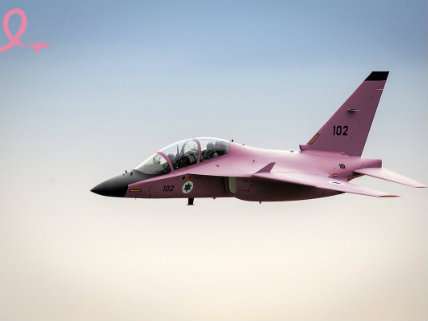 Pink-themed awareness campaigns—including cynical and cringe-worthy ones—have been a staple of the battle against breast cancer in America for decades. This sort of consciousness-raising has jumped the proverbial shark so many times that it's hard to believe it can keep getting worse, and yet ready to assuage our doubts… the U.S. government is here to help! Or at least so reported Slate and others last week.
"Like breast cancer, fighter jets kill women, making these instruments of war perfect on-message vehicles for the deadly weapons of awareness," quipped Christina Cauterucci at Slate. "They will fly through the skies, blasting tumors and lack-of-awareness with their missiles, bringing pink death and pink destruction and pink civilian casualties and pink refugee crises and pink destruction of cultural heritage wherever their noble cancer-aware pilots lead."
I was prepared to share in Cauterucci's outrage… until I spent a few more minutes reading about the pink plane. It turns out the "Heliconia"-pink F9F-8 Cougar won't actually be taking to the airways to rain death. In fact, it has naught to do with the U.S. Navy in any official capacity. Throughout October, the pink Cougar lived aboard the USS Lexington, a decommissioned naval ship turned private Texas military museum.
"Representatives from the USS Lexington Museum picked a fighter plane to symbolize all of the people that have fought and continue to fight the battle against cancer," KIII News reported. According to Rusty Reustle, USS Lexington director of operations and exhibits, dish-washing liquid was added to pink latex paint so it could be easily removed later, a technique he got from the movie Pearl Harbor, which was partially filmed aboard the museum-ship.
So, thankfully, the American military hasn't (yet) decided to paint an instrument of war a festive shade of pink as a way to say "let's save lives!" But Israel's has. On October 27, the Israeli Air Force tweeted a photo of the pastel pink fighter jet, with the message "We are #Pink. @breastcancernow #BreastCancerAwareness"