Police Warn Parents to Inspect Kids' Halloween Candy, Even Though Poisoned Candy Is a Myth
Trick or treating isn't as scary as the cops think.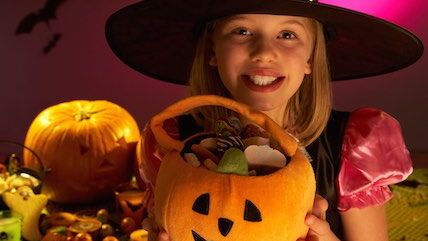 (Monkey Business Images / Dreamstime)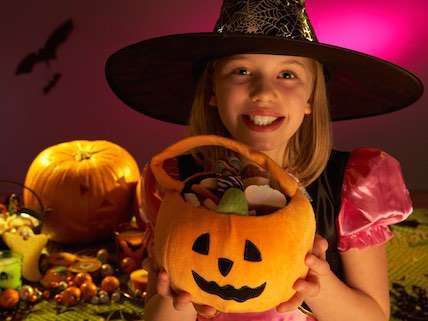 "To avoid tragedy" the Gloucester Township, New Jersey, police are warning parents not to let their kids eat unwrapped candy—even though there's never been an actual, confirmed report of a stranger poisoning a kid on Halloween.
This guidance from the police is diagnosable OCHD: Obsessive-Compulsive Halloween Disorder. Want some real Halloween fun? Count how many times parents are warned about a non-existent danger in this one "tip" sheet, courtesy of the Gloucester Township Patch:
Police are advising the following steps to avoid tragedy this Halloween night: [Start counting now!]

• Instruct children not to open their candy until they return home.

• Inspect all candy for tampering before allowing them to start eating.

• Accept only wrapped and packaged candy.

• Do not eat candy that has been unwrapped or opened.

• Never eat fruit or other unwrapped items.

• Throw away any candy or food that is not wrapped tightly by the candy company. Please call the Gloucester Township Police Department if you believe it was tampered with.

• If you should find an object in the candy or find anything unusual about it, call the Gloucester Township Police Department at 856-228-4500.

• Do not give homemade or unwrapped treats to children.

• Avoid giving choking hazards such as gum, peanuts, hard candies, or small toys as treats to young children.

• Children shouldn't snack while they're trick-or-treating. Parents should check treats at home. Give children an early meal before they head out to discourage snacking.

• Watch for signs of tampering, such as small pinholes in wrappers and torn or loose packages.

• Inspect all candy for safety before children eat it.

• Accept and give out candy that isn't easily unwrapped. Candies such as Tootsie Rolls, hard candies and certain bubble gums with twist-type wrappings can be tampered with more easily than those that are sealed.
Let me know your tally, and do not let your children eat unwrapped candy! (Sorry—I've been brainwashed.)
By the way, Gloucester Townshipians, you might want to remind the cops that, um, no child has ever been poisoned by a stranger's candy on Halloween. So kids can "avoid tragedy" and eat unwrapped candy till they vomit. From too much candy. Not from poison.