Hotel Workers' Union Gave $100K to Management's Fight Against Airbnb
Usually opponents, the New York Hotel and Motel Trades Council joined forces with the Hotel Association of New York City to fight short-term rentals.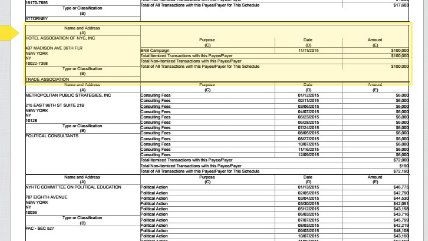 The trade association representing New York City hotels and the union that represents tens of thousands of the city's hotel workers rarely see eye-to-eye.
Last year, though, they found a common enemy: Airbnb.
The New York Hotel and Motel Trades Council, which represents more than 35,000 employees in the Big Apple, made a $100,000 contribution in November 2015 to the Hotel Association of New York City, a trade group that includes 280 of the city's hotels. The contribution, which was reported as part of a mandatory Department of Labor disclosure of union spending, was given to support the Hotel Association of NYC's "Bnb project." (H/t to Checks And Balances Project for digging this up)

Neither the trade association nor the union would confirm it, but the contribution seems like a clear reference to the hotel association's efforts to block Airbnb and other short-term rental services from operating in New York City. That effort scored a significant (though likely short-lived) victory earlier this month when Gov. Andrew Cuomo signed a bill that makes it illegal for New Yorkers to advertise short-term rentals on online platforms like Airbnb.
The contribution from the union to the trade association shows that both sides of the classic labor-management divide were willing to set aside their differences in order to use their political muscle against a common opponent.
According to Bloomberg, Airbnb accounted for 2.9 million overnight stays in New York City during 2015, but that was only 7.8 percent of all nightly rentals. Hotels accounted for 92 percent of all stays and brought in 95 percent of gross revenue.
Despite that huge edge in earnings, the hotel industry has been pushing for rules that ban short-term rentals—and not just in New York. The Hotel Association of New York City gave $25,000 to an organization that backed a 2015 ballot initiative to apply stricter rules for short-term rentals in San Francisco.
Voters rejected that proposal, but the hotel industry in New York had more success by appealing directly to elected officials. The Airbnb advertising ban signed this month by Cuomo would impose fines of up to $7,500 for each offense, but the law already faces legal challenges because it seems to violate both federal law and the First Amendment.
The union and hotel trade association are generally on opposite sides of hot button political issues. Currently, they are engaged in a fight over a proposal to raise the minimum wage to $15 in New York City, with the union supporting the so-called "Fight for $15" while the trade association opposes it.
As a private organization, the Hotel and Motel Trades Council is allowed to spend their money however they want, of course. Still, members of the union might be surprised to learn that $100,000 of their dues have been handed over to an organization that opposes the union on many issues.