Cuban Cigars and Other No-Longer-Forbidden Fruit
Say goodbye to a stupid embargo.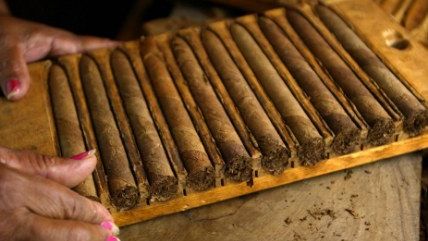 (Carlos Gonzalez/ZUMA Press/Newscom)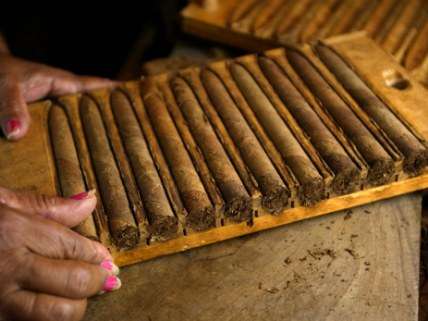 I have good news for the winners and the losers of the election, whoever they may be. The winners may enjoy the pleasure of celebrating victory with genuine Cuban cigars. The losers can drown their sorrows in Cuban rum straight from the island.
That's because President Barack Obama has made such indulgences easier. Until recently, any American traveler could bring back no more than $100 worth of these items. Under the new policy, you're free to bring as much as you can carry.
True, you may bring supplies only for your personal use; selling them is forbidden. Ha. Enterprising travelers will either ignore or find ways to evade these rules. I imagine Americans who really want Cuban rum or cigars will be able to satisfy their desire without flying to Havana.
How good are they? Before he imposed an embargo on Fidel Castro's communist state in 1962, President John F. Kennedy ordered an aide to lay in 1,000 of his favorite Cuban cigars. In the ensuing decades, they have been prized by aficionados. Havana Club's cachet has been sufficient to make it the best-selling rum on the planet.
Even some smokers who despised Castro were known to indulge when they got the chance. Anti-communists caught puffing Cuban cigars would say they weren't subsidizing the dictatorship; they were burning the enemy's crops.
Frustrated connoisseurs who finally get their lips on these prizes should savor the pleasure while they can. It's not that these legendary items will suddenly become unavailable. But the thrill will soon dissipate, for a variety of reasons.
One is that forbidden fruit is always sweeter. Products that can be obtained only with great effort or subterfuge somehow deliver more enjoyment. A half-century ago, those visiting Colorado would often drive home in cars laden with Coors beer, which was sold only in Western states and thus achieved cult status elsewhere.
Those with the brew could sell it for triple the price they paid. The New York Times reported in 1975, "Secret Service agents were forbidden to bring extra crates aboard federal planes after one agent was discovered to have loaded 38 cases onto a recent flight from the West Coast." Only after it became available everywhere did people realize that Coors is just another bland mass-market beer, interchangeable with just about anything else on sale at your grocery or liquor store.
There's a similar story involving Krispy Kreme, whose doughnut shops used to be found only in the Southeast. When the first outlets opened in New York and Chicago, frenzied locals thronged to them. Today these places are just part of the landscape, not a shimmering destination people go out of their way to reach. Shares of the company's stock peaked at $50 in 2003 before sliding to $1.01 six years later.
Cuban cigars and rum, in the same manner, will eventually lose their special aura and have to compete on their tangible merits. Those may be less than commonly assumed.
In a recent interview with NPR, David Savona, executive editor of Cigar Aficionado, said that in the magazine's taste tests, the Cubans "don't always win. So the cigars from the Dominican Republic, Nicaragua, Honduras—In many cases, they're just as good." Seriously? Honduras?
Blind tasting doesn't lie. The Washington Post recently conducted a test of six rums, four light and two dark, with each group including a Havana Club. But the Cuban brand came in second in the dark category and tied for first in the light. "Much of our obsession with Cuban rum 'is really myth over substance,' says Archipelago co-owner Ben Wiley," reported the Post.
That's the nature of human beings. We always want what we can't have and often undervalue what's right at hand. We're also fickle, tiring of the familiar and ever-alert to new enticements.
And our minds have a way of playing tricks on our taste buds. "Studies have shown that people prefer inexpensive wines in blind taste tests," The New Yorker's James Surowiecki wrote in 2013, "but that they actually get more pleasure from drinking wine they are told is expensive."
The 18th-century writer Samuel Johnson noted, "Were it not for imagination, sir, a man would be as happy in the arms of a chambermaid as of a duchess." Those first tastes of Cuban cigars and rum will be fired by imagination. After that, it's all downhill.
© Copyright 2016 by Creators Syndicate Inc.