Analyzing AT&T and Time Warner Merger, Early Voting Begins, Venezuela Keeps Finding New Ways to Worsen: P.M. Links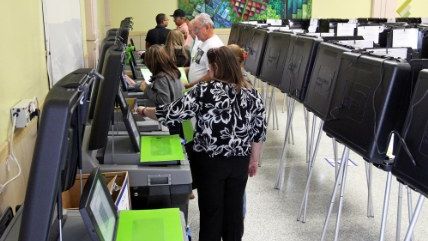 (C.M. Guerrero/TNS/Newscom)
C.M. Guerrero/TNS/Newscom

So will the merger of AT&T and Time Warner happen or not, and will the federal government intervene?

Early voting has begun in several states. Those folks are going to be disappointed to discover they're still going to have to endure all the election commercials for the next couple of weeks.
Venezuela's Congress has accused President Nicolas Maduro of staging a coup by blocking a recall effort. Polls suggest that as many as 80 percent of Venezuelans want Maduro out.
The Onion's version of a Gary Johnson commentary: "Look, I Wish I Were Better at This Also."
Adnan Syed, the man convicted of murder who was the subject of the first season of the podcast Serial, has filed a motion seeking bail while awaiting a new trial.
Lawmakers are demanding answers from the Defense Department following the report (noted in the morning links) that the California National Guard is trying to force veterans to repay signing bonuses they were handed (but apparently were not entitled to).
Follow us on Facebook and Twitter, and don't forget to sign up for Reason's daily updates for more content.