Trump Will Accept Election, Maybe, Another Woman Claims Trump Groped Her, U.S. Service Member Killed in Iraq: P.M. Links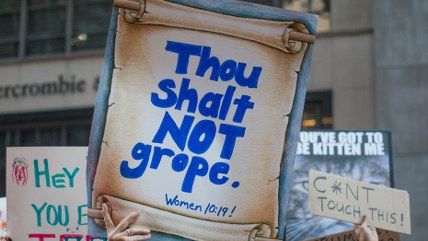 (Albin Lohr-Jones / Pacifi/SIPA/Newscom)
Albin Lohr-Jones / Pacifi/SIPA/Newscom

Donald Trump says he'll accept the election results … if he wins. That was likely a joke. He clarified that he will reserve the right to contest the election results if he deems them "questionable," but will accept a "clear outcome."

A tenth woman has come forward claiming Trump touched her inappropriately.
A U.S. service member was killed by an improvised explosive device in northern Iraq near Mosul.
A man found guilty of raping a teenage girl pulled out a razor and slit his own throat after the verdict was read in an Orange County, California, courtroom.
Syrian President Bashar Assad contends the famous photo of the shell-shocked, bloody Syrian boy who has come to symbolize the terrible state of Aleppo is forged.
British Prime Minister Theresa May says the United Kingdom will remain a solid trading partner with the European Union even after leaving the coalition.
Follow Reason on Twitter, and like us on Facebook. You can also get the top stories mailed to you—sign up here.