Clinton Insists Syria No-Fly Zone Would Save Lives, 'Hasten' End of Conflict
Says she acknowledges the risks but her policy preferences don't indicate she does.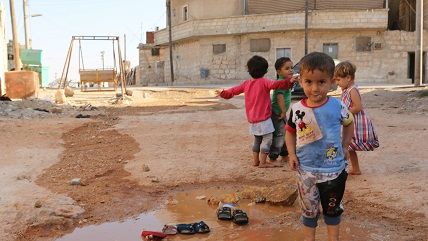 (ImagesLive/ZUMA Press/Newscom)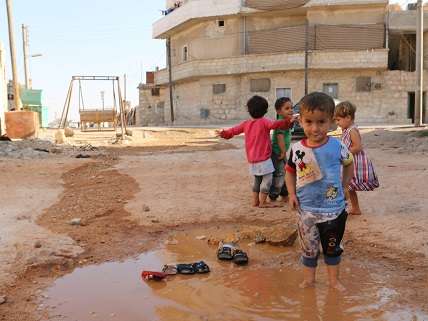 Hillary Clinton reiterated her desire for the U.S. to impose a no-fly zone in Syria at the third presidential debate, saying it "could save lives and could hasten the end of the conflict" even as she insisted she understood the "really legitimate concerns" about such an action drawing the U.S. deeper into the conflict (as Chris Wallace noted that President Obama worried) or start a war with Russia and Syria (as Wallace noted that the joint chief of staff chairman, Gen. Joseph Dunford, worried).
Once again, Clinton used the viral photo of a wounded 4-year-old boy at a hospital in Aleppo, calling it "haunting," to defend her decision to support accepting more Syrian refugees (her current position differs from her position while she was Secretary of State, when the U.S. accepted virtually no Syrian refugees, something it would continue to do until last year). But she did not talk about how escalating the U.S. role in the conflict in Syria was likely to exacerbate the refugee crisis, as did U.S. interventions in places like Iraq, Afghanistan, and Libya, nor how her preferred course of action would lead to more civilian casualties in Syria, which she admitted in a private speech to Goldman Sachs in 2013, when Russia was not as involved yet and Syrian forces were not as entrenched in the conflict as they are now.
"They're getting more sophisticated thanks to Russian imports," Clinton said back then. "To have a no-fly zone you have to take out all of the air defense, many of which are located in populated areas. So our missiles, even if they are standoff missiles so we're not putting our pilots at risk—you're going to kill a lot of Syrians." Clinton continued in the Goldman Sachs speech: "So all of a sudden this intervention that people talk about so glibly becomes an American and NATO involvement where you take a lot of civilians."
At the debates she has ignored this private idea, treating U.S. intervention glibly and ignoring the civilian casualties she so easily uses to justify her policy positions when the casualties are not U.S.-caused. There is not a widespread awareness of the situation in Syria, let alone widespread support for further intervention. U.S. meddling in Syria so far has mostly just aggravated the conflict and introduced weapons that end up in the hands of Al-Qaeda and ISIS. There is not a clearly identifiable public constituency calling for war with Syria (except perhaps the mainstream media) so it's hard to take Clinton's enthusiasm for escalating U.S. involvement in Syria as anything but genuine. Clinton has not had to answer at the general debates why she was wrong on the Iraq war, or any questions about her role in pressing for intervention in Libya and the disastrous results there. For all the talk (including last night) of the prospects of Donald Trump deciding to start a nuclear war, Hillary Clinton seems to have a better grasp of the policy decisions that would lead there and a genuine fervor for advancing them.