Top 10 Things We Learned From Hillary Clinton Campaign's Emails
Between the WikiLeaks revelations, FOIA requests, and FBI investigation, there are important details among the noise.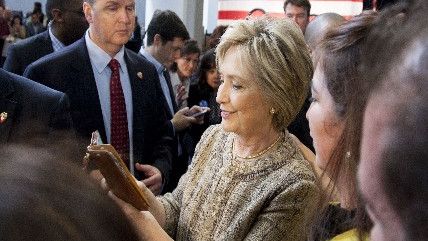 (Mariel Calloway/ZUMA Press/Newscom)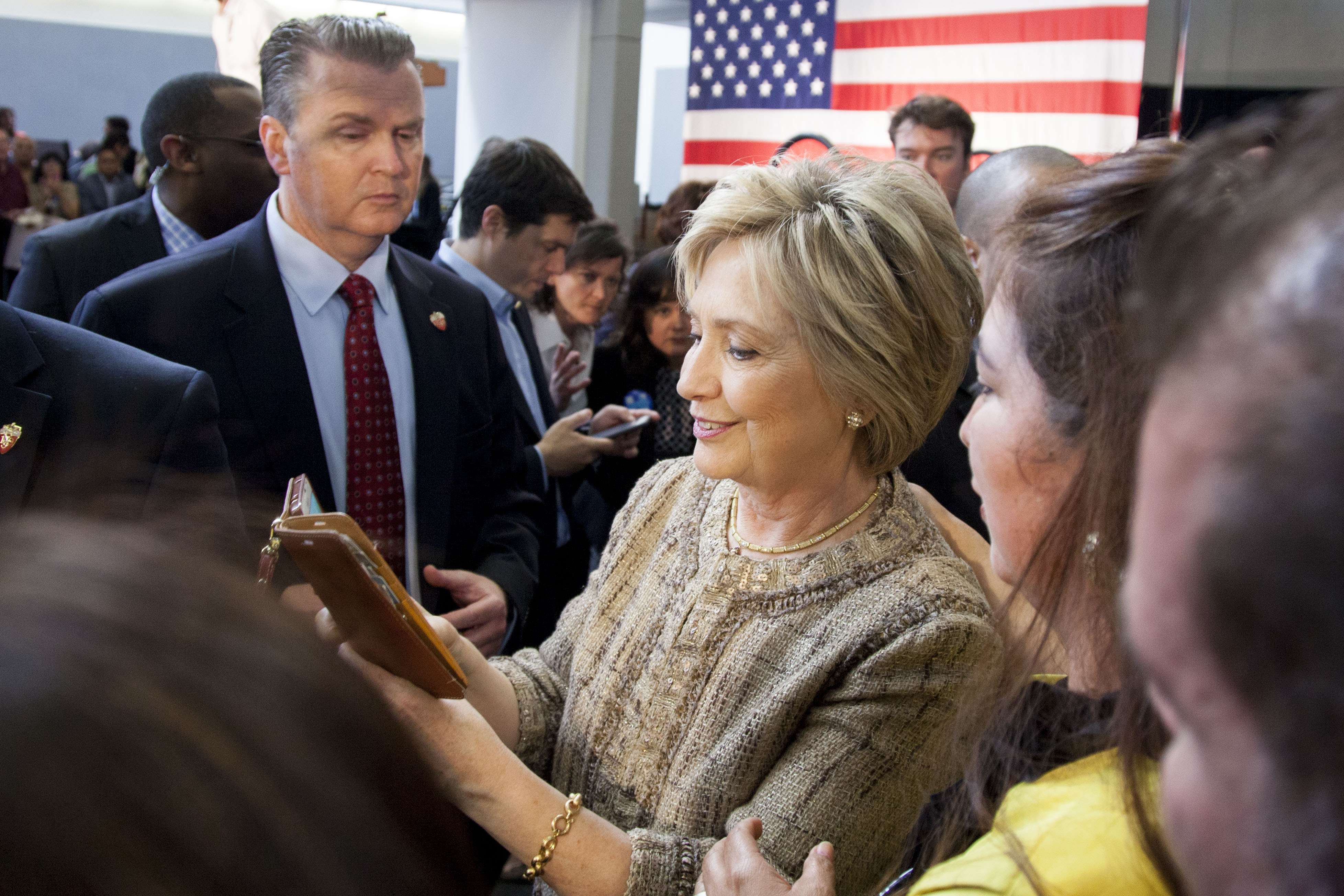 Hillary Clinton's supporters—and many mainstream media pundits who wouldn't DARE admit to holding any political points of view of their own—have been pushing the narrative that the details revealed in the hacked emails of Clinton campaign chairman John Podesta amount to little more than a hyped-up nothingburger served up by the Russian government.
The Clinton campaign won't confirm or deny the authenticity of the emails, but working on the assumption that they would vigorously deny them if they were forgeries, there are indeed some noteworthy items of information to be gleaned from the emails, as well as from recent FOIA requests related to Clinton's private email server, and the slow trickle of information coming out of the FBI regarding its investigation into Clinton's server.
We've rounded up the ten most interesting recent revelations into the Clinton machine below:
1. John Podesta thinks Bitcoin is too "libertarian" to be associated with the Clinton campaign.
In 2015, Podesta passed along a tip he received at a fundraiser about a digital currency called Ven, which on its website states that part of its value "includes carbon futures, so the more Ven in circulation, the more carbon assets held in reserve."
This apparently was music to Podesta's ears, as he wrote in an email to Clinton campaign tech staffer Teddy Goff:
I don't send all the crazy ideas I hear about at fundraisers your way, but this seems interesting and legit. Essentially digital currency with a green angle as opposed to bitcoin's libertarian Ayn Rand schtick.
2. State Department officials called themselves "the Shadow Government" and wanted to dictate how the FBI released Clinton-related documents, according to "an unidentified person" interviewed by the FBI. Via CNBC:
One revelation in the documents came from an interview with an unidentified person who suggested that Freedom of Information Act requests related to Clinton went through a group sometimes called "the Shadow Government."

"There was a powerful group of very high-ranking STATE officials that some referred to as 'The 7th Floor Group' or 'The Shadow Government.' This group met every Wednesday afternoon to discuss the FOIA process, Congressional records, and everything CLINTON-related to FOIA/Congressional inquiries," the FBI's interview summary said.

That group, according to the summary, argued for a Clinton document release to be conducted all at once "for coordination purposes" instead of on a rolling basis as would normally be the case. But the "Shadow Government" did not get its way, and the agency in charge decided for a rolling release, the FBI summary said.
3. CNN pundit-turned-interim DNC chair Donna Brazile may have shared a town hall question with Clinton campaign in advance.
In an email titled, "From time to time I get the questions in advance," Brazile shared a question related to the death penalty that she wrote, "worries me about HRC." Brazile denies sharing advance questions to the Clinton campaign and told Politico that the leaked emails are part of Russian government efforts "aimed at interfering with our election, and that WikiLeaks is part of that effort."
4. Clinton said in 2014 that she was against marijuana legalization "in all senses of the word."
One of the leaked emails revealed concern among the Clinton campaign that Clinton's staunch prohibitionism and "gateway drug" talk might need a "scrub," or a revision going forward to maintain consistency with past pronouncements, no matter how dumb.
5. Even senior Democratic Party advisers worry that a $15 minimum wage could be a job-killer.
Neera Tanden, the head of the staunchly pro-Clinton Center for American Progress, cautioned the Clinton campaign last year about supporting raising the federal minimum wage to $15/hour.
Reason's Peter Suderman explains:
As Sean Higgins of The Washington Examiner reports, an April 2015 email from Tanden to four senior Clinton staffersresponding to a list of policy proposals states that "Substantively, we have not supported $15—ysou will get a fair number of liberal economists who will say it will lose jobs." (The email was obtained through an illegal hack, and published by Wikileaks.)

It's worth taking a moment to put this in context: Tanden, a former Obama administration staffer, is the head of one of the largest and most powerful liberal policy institutions in Washington, and she is a leading figure for a top position in a Hillary Clinton administration. She's writing to a group of top Clinton campaign staffers, including Podesta, Clinton's campaign chairman and a former president of the Center for American Progress himself, Campaign Manager Robby Mook, and Communications Director Jennifer Palmieri, all of whom with intimate knowledge of the liberal policy consensus. And not only does Tanden state that many liberal economists would object to a $15 minimum wage because it would result in job loss, no one else on the thread appears to push back in any way.
As a humorous bonus, Tanden joked in one of the leaked emails that the term "Red Army" could refer to the "the base of the Democratic party."
6. Former MoveOn.org director Tom Mattzie wrote of planting questions with reporters.
In a 2007 email to John Podesta, the self-described clean energy entrepreneur wrote, "We are already implementing a plan for 'tough questions' that we plant or bait reporters to ask that draw the Republicans closer to Bush, etc." Apparently confirming the veracity of the email, Mattzie explained on Twitter that "We were testing expected attacks by Republicans" on both Clinton and Barack Obama during the 2008 Democratic primary.
7. Clinton errs on the side of law enforcement and government when it comes to privacy, secrecy, and spying on citizens.
Reason's Scott Shackford noted that in one 2015 email exchange, "Podesta openly acknowledged Clinton's attitude of deference to authority," when the Clinton campaign boss wrote, "Her instincts are to buy some of the law enforcement arguments on crypto and Snowden type issues."
8. The Clinton campaign knew all along that she was inventing history to justify her support of the Defense of Marriage Act (DOMA).
Dan Schwerin, director of speechwriting, wrote in a 2015 email exchange with a number of senior Clinton campaign staffers:
I'm not saying double down or ever say it again. I'm just saying that she's not going to want to say she was wrong about that, given she and her husband believe it and have repeated it many times. Better to reiterate evolution, opposition to DOMA when court considered it, and forward looking stance.
As Scott Shackford also noted, these emails "make it clear that the Clinton campaign understood that she was wrong about the history of DOMA, but she also was not likely to admit it or their role in supporting the legislation." Shackford explains:
Both Clintons have tried to argue that their support of DOMA as an attempt to prevent a possible Republican effort to pass a constitutional amendment prohibiting recognition of same-sex marriage nationwide. They were trying to shift blame for their own support for DOMA to Republicans. The problem was that there was no Republican push for a constitutional amendment during Clinton's administration.
9. Hillary Clinton believes highly problematic U.S. allies Saudi Arabia and Qatar are funding ISIS.
In a very interesting email where the Democratic nominee lays out a detailed eight point foreign policy memo for Podesta, Clinton writes, "we need to use our diplomatic and more traditional intelligence assets to bring pressure on the governments of Qatar and Saudi Arabia, which are providing clandestine financial and logistic support to ISIL and other radical Sunni groups in the region."
This memo offers an unfiltered glimpse into Clinton's well-regarded reputation for detail-oriented wonkery, but also for her credulous faith in the conventional wisdom, as demonstrated by faith that by arming just about every anti-ISIS group in the region (including the practicaklly undefinable "Free Syrian Army"), ISIS would be on the run in no time at all.
10. The White House not only knew about Clinton's private email server well before they admitted to it, it actively interfered with the handling of FOIA requests.
Thanks to a FOIA lawsuit, we now know that despite President Obama's previous statements that he and White House staffers were unaware of Clinton's use of a private email server while she was serving as his chief diplomat, as well as his "guarantee" that the executive branch wielded "no political influence in any investigation conducted by the Justice Department, or the FBI," they were very much aware in early 2015 and took active steps to shield Clinton from the fallout.
The Wall Street Journal's Byron Tau reported that the White House communications director coordinated with the State Department "to see if it was possible to arrange for Secretary of State John Kerry to avoid questions during media appearances about Mrs. Clinton's email arrangement." The Observer's Michael Sainato also noted, "Obama's administration has intervened to delay several FOIA requests until after Election Day to shield Clinton from further scrutiny."