No-Fly Zone in Syria Is a No Good Idea
Interventionists see humanitarian crisis to exploit.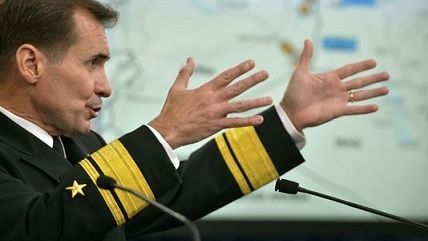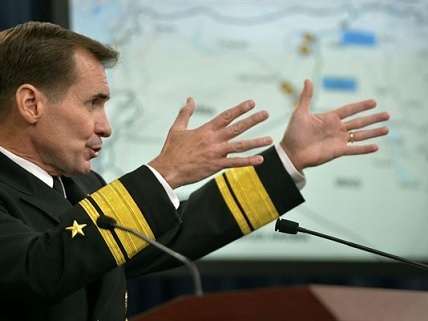 The push for a no-fly zone in Syria has been ratcheted up in recent days, with Hillary Clinton explaining at Sunday's presidential debate why she was in favor of imposing a no-fly zone and members of government in the United Kingdom pressing for one.
At the debate, Clinton said she advocated for a no-fly zone as Secretary of State (she served from 2009 to 2012—the Syrian civil war began in 2011) and said she was doing so again as a presidential candidate. "We need some leverage with the Russians," Clinton explained, "because they are not going to come to the negotiating table for a diplomatic resolution, unless there is some leverage over them. And we have to work more closely with our partners and allies on the ground."
At an emergency parliamentary session in the United Kingdom on Syria on Tuesday, Conservative, and Labour, members supported a no-fly zone, and Foreign Secretary Boris Johnson called on the West to explore more "military options" in Syria, saying Russia was at risk of becoming a "pariah nation." The new prime minister, Theresa May, said she would carefully consider the option but that it was up to "the international community to continue to put more pressure on Russia."
France, for its part, has tried to pass a United Nations Security Council resolution that would demand an "immediate halt" to the bombings by the Syrian and Russian air force in Aleppo. The resolution, which could have been used to justify the imposition of a no-fly zone in Syria, was unsurprisingly vetoed by Russia. China, another veto-wielding power, abstained.
While Clinton admitted at the debate more U.S. intervention in Syria would have the aim of creating leverage vis a vis Russia, Clinton and other intervention advocates generally cite the humanitarian crisis in Aleppo as their motivating factor, claiming that Russia and Syrian forces were bombing populated civilian areas under the control of rebel groups. Syria insists these are terrorist groups, among them ISIS. Donald Trump repeated that claim at Sunday night's debate.
At a speech to Goldman Sachs in 2013, Clinton explained the difficulties of imposing a no-fly zone in a way she hasn't at the debate or elsewhere on the public campaign trail. "To have a no-fly zone you have to take out all of the air defense, many of which are located in populated areas," Clinton said according to leaked transcripts. "So our missiles, even if they are standoff missiles so we're not putting our pilots at risk—you're going to kill a lot of Syrians."
Clinton continued: "So all of a sudden this intervention that people talk about so glibly becomes an American and NATO involvement where you take a lot of civilians." This was in 2013, before ISIS had become a recognized threat and before Russia intervened in the civil war. Back then, then Joint Chiefs of Staff (JCOS) chairman Gen. Martin Dempsey said that tens of thousands of U.S. troops would be needed to impose a no-fly zone and that the operation could cost a billion dollars a month. A no-fly zone is an even more difficult proposition now and would be harder still by the time Hillary Clinton were to enter office in 2017. More recently, last month current JCOS chairman Gen. Joseph Dunford said that imposing a no-fly zone would "require" war with Syria and Russia.
Previously, the U.N. passed a Security Council resolution in 2011 concerning violence in Libya (China and Russia abstained) that was used by Western powers led by France and the U.S. as a justification for a no-fly zone. China and Russia complained almost immediately that the resolution was being used beyond the scope for which it was intended, with the Russian ambassador to NATO arguing the aim of the operation was to oust Col. Qaddafi, the Libyan dictator. Rebels eventually captured, sodomized, and killed Qaddafi with the help of U.S. air cover. Before that, the U.S. participated in the imposition of a no-fly zone over Iraq after the conclusion of the First Gulf War—the U.N. resolution used to justify that action did not reference no-fly zones either—that lasted until the U.S. invasion of Iraq in 2003. In 1994, NATO imposed a no-fly zone in Bosnia. It was the first combat engagement by the Cold War alliance since it was established in 1949.
With less than a hundred days left in the Obama administration, the U.S. is likely to run the clock out in Syria and leave any decision about escalating or de-escalating intervention to the next president. Given the poll position of the committed interventionist Clinton and the inherent uncertainty of Trump's positions, the upcoming lame duck session of Congress may be the best opportunity yet available to waste on not reining in U.S. interventionism.