Future Nobel Laureate Warns: The Antichrist Is Coming!
Friday A/V Club: The Devil and Bob Dylan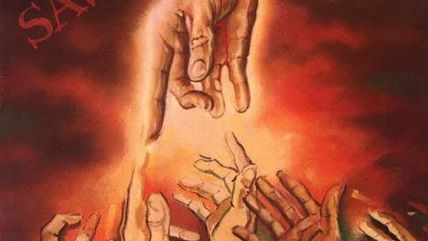 It's April 1980. You live in Toronto. You're going to see future Nobel laureate Bob Dylan play a show at Massey Hall. Of course, you don't think of him as future Nobel laureate Bob Dylan. You think of him as a hippie rock star who's just pissed off vast swaths of his fan base by converting to evangelical Christianity.
Hopefully you weren't expecting to hear his old hits, because Dylan doesn't sing any of those. Instead he plays a bunch of his new religious songs, and at one point, with the band vamping behind him like he's a preacher and it's Sunday morning, he lets loose a little sermon. "In the Bible," he says, "it tells you specific things, in the Book of Daniel and the Book of Revelation, which just might apply to these times here." And he talks about Afghanistan and he talks about the Antichrist, and while he's standing there playing the prophet you start to realize that future Nobel laureate Bob Dylan isn't just into Christianity; he's into some freaky endtimes shit.
But damn if he doesn't make it compelling, and somehow it all builds to a revved-up performance of "Solid Rock." Check out the whole thing here:
I'm already on record as a fan of Dylan's Christian albums, and I'm not gonna recycle my arguments for them here. I wrote a piece for No Depression back in 2003 that makes my case, and if you're interested you can check that out. I'll just note that I'm not a Christian myself, so I'm not inflating their quality because I agree with them. And much as I love Dylan's best work, I'm definitely not the sort of fan who eats up everything he puts out, so that's not the issue here either. I honestly believe that Slow Train Coming is one of the great American jeremiads and that Saved is 43 minutes of good-and-sometimes-great gospel music.
But I do have one little bias that might be magnifying my affection for this stage of Dylan's career. It's the window it opens on that Carter-era apocalyptic mood, when everything from the Afghan war to the Jonestown massacre—yeah, Dylan mentioned Jonestown in that sermon too—felt like a sign that Armageddon was near.
Every era of American history has its own set of apocalyptic fears, a particular collection of cataclysms that seemed to loom at that specific moment. Inevitably, someone combines those historically contingent threats with the more long-lived tales Americans tell each other about the endtimes, so that, say, whatever happened that week in the Middle East is imagined as an event foretold in the Bible. Such exercises always look a little ridiculous in retrospect, once the crisis has passed without the world ending.
But try to look past the ridiculousness. Try to suspend your disbelief and take them seriously, the way you might when you watch a horror movie. If you can do that, you'll find they're a valuable portal to the past. If you want to understand how the Soviet invasion of Afghanistan felt as it happened, you have to take yourself out of the mindset that sees that incursion as the beginning of a nine-year war that ended nearly three decades ago. You have to imagine how it looked to someone who had no idea how this was going to end, someone who caught a whiff of Armageddon in the air.
Someone who might talk about the invasion as though he was just a few years removed from doomsday, not 36 years removed from winning a Nobel Prize. And if he can wrap up that talk with a solid song, all the better.
(For past editions of the Friday A/V Club, go here. For the Orson Welles version of Carter-era apocalypticism, check out the second and third videos here. For the far end of the period's endtimes fears, go here.)