Donald Trump Responds to Assault Allegations, U.S. Strikes Sites in Yemen, Gov. Christie Faces Court Summons over Bridgegate: P.M. Links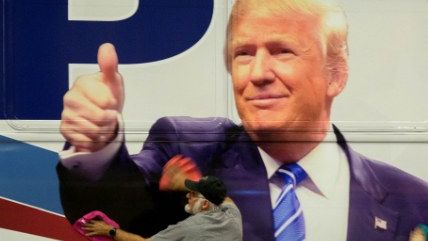 (Allen Eyestone/ZUMA Press/Newscom)
Allen Eyestone/ZUMA Press/Newscom

Donald Trump says all the sexual assault allegations against him are all part of a conspiracy against him. Like we needed another example of his similarity to Hillary Clinton.

First Lady Michelle Obama is telling women they should rise up and rebel against Trump as a nominee. I think they're well ahead of you there.
The United States launched strikes on coastal radar sites in Yemen after missiles targeted a warship in the Red Sea for a second time.
A judge will be issuing a criminal summons against New Jersey Gov. Chris Christie for official misconduct over "bridgegate," where staffers arranged for traffic-snarling lane closures of a bridge in order to punish a mayor who declined to endorse the governor.
Arkansas' Supreme Court will allow citizens to vote on a constitutional amendment allowing legal access to medical marijuana for some conditions.
Keith Lamont Scott, shot and killed by police in North Carolina in a confrontation, was struck at least three times, including once in the back, according to an autopsy.
Follow us on Facebook and Twitter, and don't forget to sign up for Reason's daily updates for more content.