States Make 1.25 Million Drug-Possession Arrests Annually, Ohio Swinging Seriously Clinton, Johnson Gets 14 Percent In Utah: A.M. Links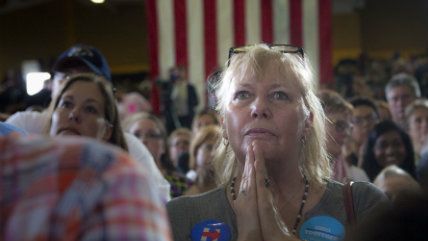 (Brett Marty/Polaris/Newscom)
Brett Marty/Polaris/Newscom

The American Civil Liberties Union and Human Rights Watch are calling on the U.S. to decriminalize all drugs in a new report showing state law enforcement agencies make more than 1.25 million drug-possession arrests annually. "Every 25 seconds someone is funneled into the criminal justice system, accused of nothing more than possessing drugs for personal use," Tess Borden, the report's author, said.

A new Ohio poll shows Hillary Clinton with a nine-point lead over Donald Trump.
Gary Johnson is now polling at 14 percent in Utah, with Hillary Clinton and Donald Trump tied at 26 percent and independent candidate Evan McMullin at 22 percent.
WikiLeaks "isn't going down without a fight." But does anyone care?
Chris Hayes: "If a tape came out with Donald Trump saying that, saying, 'I really like to rape women.' You would continue to endorse him?" U.S. Rep. Blake Farenthold (R-Texas): "I'd consider it."
The future of pro-life activism? According to Slate, it's "young, female, secular, and 'feminist.'"
Follow us on Facebook and Twitter, and don't forget to sign up for Reason's daily updates for more content.