Mormon Exodus: Trump, Clinton Tied in Utah at 26%; McMullin 22%, Johnson 14%
Will the conservative alternative sneak past the Libertarian nominee in the Electoral College?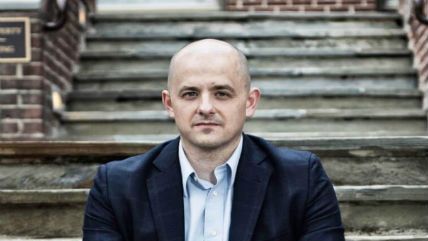 (Evan McMullin for president)
On the evening of Oct. 7, after the "grab-them-by-the-pussy" tape had been reverberating for a few hours, I tweeted that "The next polls from Utah should be interesting." And holy mother of God are they.
A Y2 Analytics poll of 500 likely Utah voters from Oct. 10-11 was published this morning, and the results are the craziest numbers I've seen in an already unfathomable election year: Donald Trump and Hillary Clinton are tied at 26 percent, independent conservative Evan McMullin is closing fast at 22 percent, Gary Johnson is at 14, and Jill Stein's at 1. This in a state where Mitt Romney received 73 percent of the vote in 2012, and which Republicans have won since 1976 by an average of 36 percentage points.
This is Y2 Analytics' first Utah poll this year, so we don't have a clean before-and-after comparison yet. As I mentioned in the bottom of this Saturday post about the Mormon-led Republican defection from Trump, two of only three previous Utah polls that included McMullin looked like this:
DT 34% HC 25% GJ 13% EM 12% JS 1% OT 8% UN 8% (Sept. 12-19 Tribune-Hinckley)
DT 39% HC 24% GJ 13% EM 12% JS 0% DC 2% OT 6% UN 7% (Sept. 1-9 Tribune-Hinckley)
(DC = Darrell Castle, OT is other, UN undecided)
So as I pointed out in August, Trump was already in an unprecedentedly weak position in the Beehive State before this latest evidence of his moral vulgarity surfaced. Now Mormons (who make up an estimated 55 percent of Utah's population) look poised to run screaming from the Republican Party's standard-bearer. The Y2 survey found that a whopping 94 percent of respondents were aware of Trump's sex-bragging tape, and that McMullin—a Utah native, Brigham Young University grad, and Mormon—was competitive despite only 52 percent being aware enough of him to form an opinion. In addition, according to the Deseret News write-up, "McMullin soundly beats Trump among those in the poll who identified themselves members of The Church of Jesus Christ of Latter-day Saints."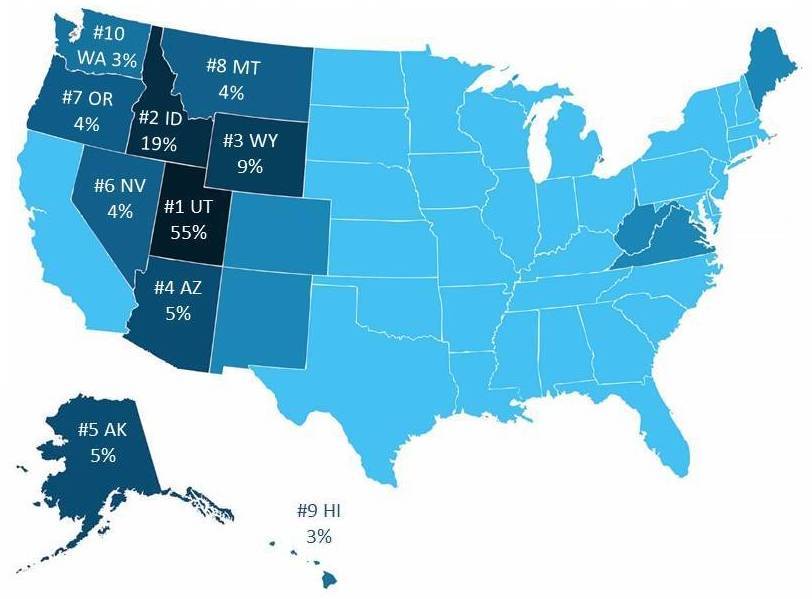 The campaigns of both McMullin and Johnson are based in Utah, so this poll will intensify what was already a top regional priority for both. The Johnson/Bill Weld shop started its latest fundraising pitch yesterday like so: "A realistic analysis of polling data across the country shows that Governors Johnson and Weld can win 5 or more states by focusing resources in these key purple states."
Johnson is on the ballot in all 50 states plus Washington, D.C.; McMullin is on just 11 (compared to Darrell Castle's 24 and Rocky De La Feunte's 20). In most of those states, McMullin isn't making much of a measurable dent—in Virginia this week, for example, he recently registered at 1 percent compared to Johnson's 7. But it's also true that his name doesn't always appear on polls, and that many of his states are underpolled to begin with. I would expect him to pull some votes in Idaho (a safely Republican state with the second-largest concentration of Mormons), plus Colorado and New Mexico, each of which feature 2 percent Mormon populations and are easily reachable from the Salt Lake media market.
Gary Johnson, meanwhile, looks to be most competitive in his home base of New Mexico, where a recent poll had him at 24 percent; plus third-party-friendly Alaska, where a recent pre-Trump-tape poll had him at 18 percent. He was also beating the spread between Clinton and Trump in 18 states, last time I ran the numbers.
If either Johnson or McMullin win a state outright, it would mark the first such success by a third-party presidential candidate since George Wallace won five in 1968. With Clinton's lead widening over Trump of late, the drama of such a milestone would lessen. But it would be a huge deal either for a Libertarian Party attempting to cement its status as the third alternative in American politics, or for #NeverTrump conservatives looking to build from the wreckage of a self-damaging election. There is no doubt that the LP will win the overall bronze in the popular vote, but will the conservative alternative sneak past in the Electoral College? The answer to that question will give us some interesting clues about what post-Trump politics will look like in America.