Clinton Praised Putin, Putin Ally Says Vote for Trump is Vote for 'World Peace,' Obama Sets Sights on Mars: P.M. Links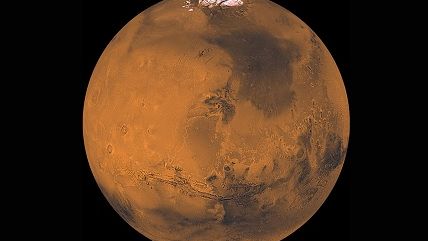 NASA

Leaked speech transcripts purportedly show Hillary Clinton praising Russia President Vladimir Putin as recently as 2014. An ultra-nationalist ally of Putin warns that a vote for Clinton is a vote for "World War III" while a vote for Donald Trump is a vote for "world peace." On a C-SPAN town hall Gary Johnson named two law professors as his top picks for the Supreme Court.

Voter registration has been extended in Florida in the wake of Hurricane Matthew.
Rebels in Yemen launched another failed missile strike at a U.S. navy ship in the region.
Members of government in the United Kingdom are pushing for a no-fly zone to be imposed over Syria.
Chip Kelly has made Colin Kaepernick the starting quarterback for the San Francisco 49ers in Week 6.
Following Elon Musk, President Obama says he wants the U.S. to send a man to Mars by the 2030s.