Elderly Couple Files Civil Rights Lawsuit Challenging Arizona's Rigged Asset Forfeiture System
Unable to afford a lawyer, Terry and Maria Platt entered what a new lawsuit says is a unbeatable maze of laws to get their car back.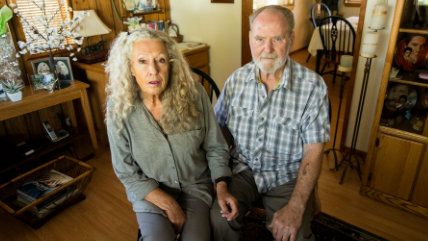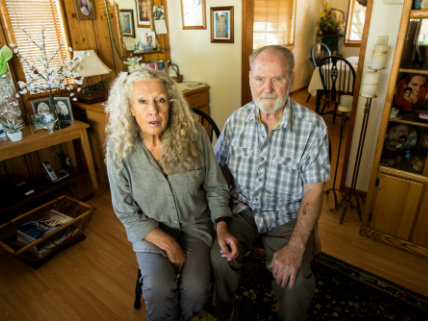 Because of four missing words on a handwritten petition, Terry and Maria Platt may lose their car in a state they never visited, for an alleged crime for which no charges have been filed.
The Platts, an elderly Washington couple, are the latest to challenge the constitutionality Arizona's asset forfeiture laws after the Navajo County Attorney's Office seized their car. Represented by the Institute for Justice, a libertarian-leaning public interest law firm, the Platts filed a civil rights lawsuit last week arguing the seizure of their car was illegal and the state's burdensome and confusing rules are rigged to deny defendants their due process rights.
According to the lawsuit, the Platts had loaned their son Shea their 2012 Volkswagen Jetta in May so he could drive to Florida for a vacation. While driving through Arizona, he was stopped by police for a window-tint violation. Such pretextual stops are a common tactic for police hunting for drugs, cash, and cars to seize.
This time, the officer struck paydirt.
A subsequent police search of the car turned up roughly $31,000 in cash and a small amount of "personal use" marijuana, according to the police report. Shea was arrested for possession of marijuana and paraphernalia, as well money laundering. Months after he was released from police custody, however, there are still no pending criminal charges against him, but the cash and car were seized. Under asset forfeiture laws, police can seize property suspected of being connected to criminal activity, even if the owner is never convicted or even charged with a crime. In this case, the owners were hundreds of miles away.
The Platts soon received a letter in the mail from the Navajo County Attorney's Office informing them they only had 30 days to send a petition to the county attorney or file a challenge in court. If they did neither, their car would be summarily forfeited.
Daunted by the likely attorney fees, the Platts sent a handwritten petition under the deadline to the attorney's office. However, the Navajo County Attorney's Office filed an application in county court for an uncontested forfeiture of the car, declaring the Platts' petition "null and void." According to the Institute for Justice, the attorney's office never submitted the Platts' petition to the court or explained why it was rejected.
Responding to the Platts' lawsuit, the Navajo County Attorney's Office then filed a motion arguing their petition was invalid because they had neglected to include the words "under penalty of perjury" with their signatures.
"The implication of the State's argument is breathtaking," the Institute for Justice shot back in a counter-motion. "The State is arguing that this Court cannot review the legality of the State's actions here—actions taken under a profit incentive to take property for forfeiture—and the Court must ignore Terry and Ria's attempts to invoke judicial review of the State's decision to ignore Terry and Ria's June 28 pro se Petition."
The Institute for Justice also argues the small amount of marijuana found in the Platts' car was well below the two-pound threshold for a drug felony in Arizona, making the seizure of the cash and car illegal in the first place.
Many states have reformed their asset forfeiture laws in recent years, but Arizona ranks among the worst in the country when it comes to due process protections for property owners. Because the process is civil, there is no right to an attorney, the burden of proof falls on the owners to prove their innocence, and, in a particularly punitive wrinkle in Arizona state law, those who challenge a seizure can be charged for the government's attorney fees if they lose.
"Arizona's civil forfeiture maze is the greatest threat to property rights and due process today," Institute for Justice attorney Paul Avelar, who is representing the Platts, said in a statement. "No one should lose their property without being convicted of a crime and law enforcement should not be allowed to keep and spend what they forfeit."
According to the Institute for Justice, Arizona raked in $36 million in forfeiture revenues in 2015 alone. All of that money goes back into the budgets of police departments and county attorneys. Law enforcement groups say asset forfeiture laws are necessary to target the proceeds of organized criminal operations, like drug trafficking, but civil liberties advocates say those sort of profit incentives lead to police and prosecutors shaking down everyday citizens.
The Navajo County Attorney's Office declined to comment on the case. However, the Maricopa County Attorney's Office defended the state's asset forfeiture practices in an interview with the local Daily Courier newspaper:
Maricopa County Attorney Bill Montgomery, whose office is not involved in either lawsuit, dismissed arguments that civil forfeiture should first require a criminal conviction. He said that questions of property rights always have been handled in civil court.

He has used the example of a drug cartel courier stopped by police who might thwart conviction by claiming claim he did not know about the drugs and cash in the truck. But Montgomery said that is no reason to allow the cartel to get back the vehicle and the cash […]

As to any profit motive, Montgomery said proceeds go to the county attorney who then reviews requests by the police departments involved in the seizure for a share. He also said there are federal and state guidelines that preclude proceeds from being used by an agency to buy things that county supervisors refuse to fund "so that you can't have asset forfeiture as a regular business to plus-up or round out your budget."
Last year, the ACLU and the law firm Perkins Coie filed a similar suit challenging Arizona's asset forfeiture laws on behalf of Rhonda Cox, whose $6,000 used truck was seized by Pinal County after her son borrowed it and allegedly replaced the hood and cover with stolen parts. Cox initially tried to challenge the seizure, but she let her truck be forfeited after the Pinal County Attorney's Office told her that, under state law, she would be liable for the government's legal fees and investigation costs if she lost her challenge—costs that would likely exceed the value of the truck itself.
In its complaint, the ACLU and Perkins Coie noted that asset forfeiture funds were used for, among other things, the Pinal County Attorney's home security system and retirement contributions to county attorney's office employees. Earlier this year, local Arizona news outlets reported the FBI was asking questions about Pinal County Sheriff Paul Babeu's use of asset forfeiture funds. Babeu, who is also running for Congress, used asset forfeiture funds to pay for a "public safety newsletter" that was sent to voters and touted his public safety record.
"Arizona's unfair, unconstitutional civil asset forfeiture scheme has persisted for far too long," Jean-Jacques Cabou, a partner at Perkins Coie, says. "It's extremely encouraging to see another court challenge specifically targeting the perverse profit incentive of Arizona law enforcement and calling out the extreme barriers faced by innocent owners in this system. A broad coalition of people from across the political spectrum are working in the courts and in the legislature to reform Arizona's forfeiture laws; one way or another, we will get these laws changed."
I recently wrote about a similar case in New Mexico, where a mother is suing the city of Albuquerque for seizing her car after her son was arrested while driving under the influence in it. Even though the state of New Mexico passed a law last year essentially banning civil forfeitures, the city has continued to pursue its particularly aggressive forfeiture program, arguing the reforms do not apply to it.
Forfeiture law, it seems, always applies rigorously to parents whose children are suspected of crimes, but not to the law enforcement agencies seizing their property.