How Much Better Off Is the World Since You Were Born?
Go find out at "Your Life In Numbers" over at the Human Progress program at the Cato Institute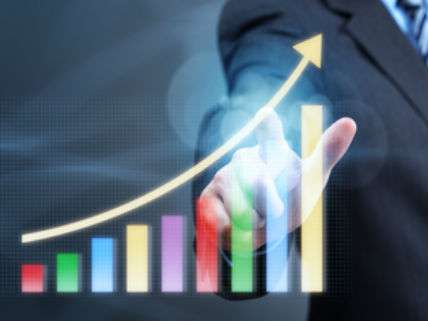 The folks over at the invaluable Human Progress program at the Cato Insitute have created a nifty new web feature that enables you to figure out how trends in life expectancy, education, food supplies, income, infant mortality, and even democracy have evolved in your country since you were born (assuming you born after 1960 that is). In its introduction, the feature notes that during the last half century:
All you have to do is supply the name of your country and the year you were born and the Your Life In Numbers will generate an easy-to-read chart showing how things have changed since you first appeared on this earth. For example, if you were born in the U.S. in 1960: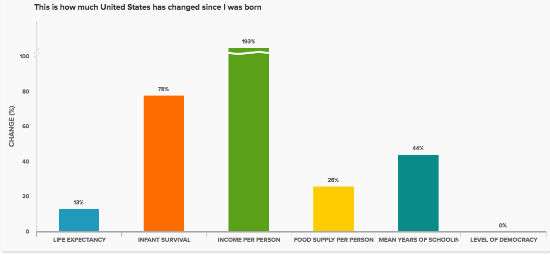 In 1996: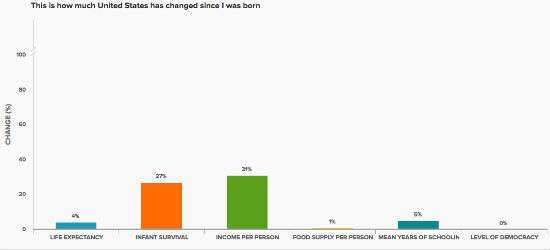 The site also allows you to compare the changes in your country with those in another country. For example, compare the U.S. to Denmark.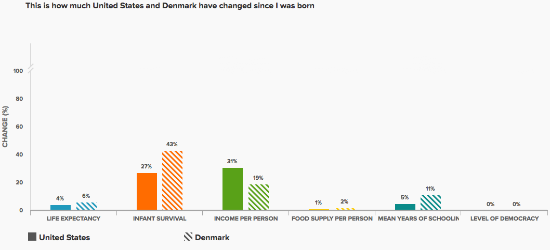 So click on over and see how much better (or worse) your prospects are compared to when you were born.