Uber, Lyft Will Continue Operating in Philadelphia, Defying Judge's Order (Updated: Judge's Order Overturned!)
Ride-sharing services weren't defendants in lawsuit brought by taxi driver union, but got slapped with a cease-and-desist order anyway.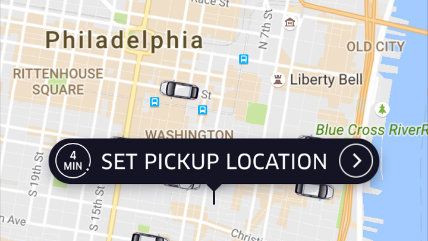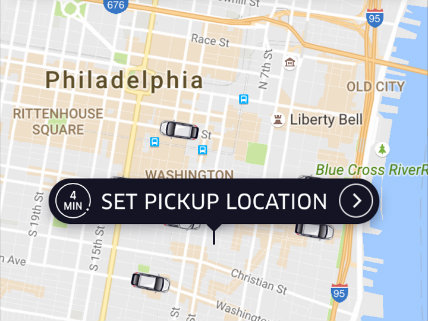 A day after a Pennsylvania judge ordered ride-sharing services to suspend operations in Philadelphia—where Uber and Lyft said they would keep operating regardless—that order has been overturned by a higher ranking judge.
Judge Robert Simpson of the Commonwealth Court of Pennsylvania on Friday evening issued a stay against the cease and disist order issued Thursday by Judge Linda Carpenter of the state's Court of Common Pleas.
Confused yet? Here's the bottom line: Uber and Lyft will get to continue operating in Philly, at least until city regulators or state lawmakers finalize new rules for the ride-sharing apps.
"We are encouraged by today's news and remain focused on working with legislators in Harrisburg to pass permanent rules for ridesharing in Pennsylvania," said Lyft spokeswoman Chelsea Harrison in an email on Friday evening.
The cease and desist order had been issued in response to a lawsuit filed by the Taxi Workers Alliance of Pennsylvania, a union representing taxi drivers. That lawsuit challenged the Philadelphia Parking Authority's decision in July to allow Uber and Lyft to operate in the city after previously trying to block them.
Uber and Lyft were not defendants to the lawsuit and were not given a chance to respond to the lawsuit before the order was issued.
Drivers caught using UberX or Lyft apps to pick-up passengers were told they have their cars impounded and will be held in contempt of court for violating the order.
Lyft has reached out to drivers in Philadelphia to let them know about the company's critical response contact information.
"If you ever receive a citation or have an escalated issue on the road, we'll be here for you," Lyft told drivers in a notification sent on Friday.
The legal back-and-forth comes just days after the Philadelphia Parking Authority indicated it was going to rewrite regulations to once again make ride-sharing illegal in the city. Uber and Lyft had operated outside of the PPA's regulations prior to getting a temporarily autorization before the Democratic National Convention took place in July. That authorization expired at the end of September.
Previously, the PPA had run sting operations to catch Uber drivers in the act. Its not immediately clear if the authority plans to start going that again.
Uber and Lyft are operating in the rest of Pennsylvania under a temporary two year authorization granted by the state's Public Utility Commission. Under the state's confusing regulatory system, the PUC has authority over taxi services everywhere except Philadelphia, where the PPA has the final say.
That is, unless state lawmakers in Harrisburg supercede the PPA's authority.
Whether they will do that before the end of the year is still an open question. Legislation that would legalize ride-sharing statewide passed the state Senate in November 2015 but has been tied up in the state House and hasn't moved since May. The legislature is scheduled to reconvene on October 17, but there are only a handful of days remaining on the legislative calendar for the year—if the bill isn't passed and signed into law before December 31, it would have to start all over again in the new session.
The bill would prevent Uber and Lyft drivers from picking up passengers at the city's airport and train station, but would otherwise allow ride-sharing to have free reign in the city.
Instead of resorting to using government force against potential competitors, taxi companies in Philadelphia could learn from their counterparts in St. Louis. Cab companies there have recently announced plans to launch a smart phone app to compete directly with Uber and Lyft.
Consensus in my uber pool is if the taxi companies want to compete, they should make their own app. Otherwise leave uber alone pic.twitter.com/iSdRKfWNtW

— Julia Hatmaker (@JuliaHatmaker) October 6, 2016
Until that happens, the legal tug of war between taxis and ride-sharing is likely to continue in the City of Brothery Love.