Trio of New Comedies Targets Female Viewers
American Housewife, Divorce, and Insecure run gamut of tones and humor.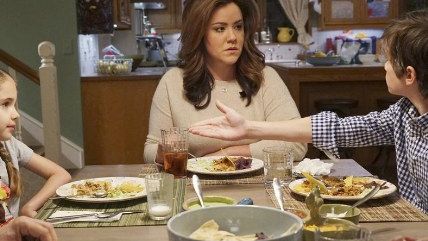 ('American Housewife,"ABC)
American Housewife. ABC. Tuesday, October 11, 8:30 p.m.
Divorce. HBO. Sunday, October 9, 10 p.m.
Insecure. HBO. Sunday, October 9, 10:30 p.m.
"The great question that has never been answered and which I have not yet been able to answer, despite my 30 years of research into the feminine soul, is: 'What does a woman want?'" A sitcom, dude. Three of them, written by and oriented toward women, debut this week. But if you're seeking some sort of gender epiphany, this may not be the right milieu: Sisterhood may be powerful, but it definitely isn't commonality.
ABC's American Housewife—the lone new broadcast show this week as the deluge of fall premieres slows to a trickle—is at once the most conventional and the funniest of the three. It's the latest dysfunctional-family comedy of the line spawned by Married … With Children 30 years ago, which has expanded to dominate television so thoroughly that it's hard to remember a time when Ozzie and Harriet and Ward and June stalked the Earth, sniffing out and snuffing the unwholesome.
That is definitely not the mission of American Housewife lead Katie Otto (Katy Mixon, much beloved as the corpulent party girl Victoria on Mike & Molly these many years). The self-proclaimed third-fattest housewife of Westport, Connecticut, her life goal is to not move up to No. 2, a modest ambition that seems doomed by the imminent departure of Fat Pam across the street.
More forlornly, Katie takes an occasional half-heated stab at coaxing her youngest children—little OCDed-out Anna Kat, determined to lead a friend-free life after learning other kids carry germs, and her uber-Randian older brother Oliver, whose preferred bathroom reading is the Robb Report—towards normality. And exactly the reverse with teenager Taylor, whose previously recessive hot-chick gene has just blossomed, threatening to turn her into one of the air-kissing, Stepford Wife size twos who are the bane of Katie's existence. Of little help in these endeavors is husband Greg (Diedrich Bader, The Drew Carey Show), who mostly passively observes events from his perch on the upstairs toilet.
The desperate-parents-and-damaged-kids formula of American Housewife is certainly nothing new. But creator and producer Sarah Dunn has had a long career path through some of TV's most successful sitcoms, from Veronica's Closet to Murphy Brown to Spin City, and she's learned a good deal along the way. American Housewife may be a knockoff rather than a tapestry, but it includes threads of wistfulness, paranoia and willful social deviance that will make you look twice. Or even thrice. I was floored by Oliver's retort to his mother's lecture about the virtues of unselfishness. "If I thought I might be a girl on the inside, you'd let me wear a skirt to school," he snapped. "This is no different. I should be allowed to be who I am."
At the opposite end of the hilarity scale is HBO's Divorce, where the dialogue mostly runs along the lines of an embittered wife snapping at her overweight husband, "Keep spooning it in, you fat fuck." Rimshot: He collapses of a heart attack and goes into a coma.
Created by British actress Sharon Horgan and co-produced by star Sarah Jessica Parker, Divorce chronicles the disintegration of the loveless wedlock of a middle-aged suburban couple, Frances (Parker) and Robert (Thomas Haden Church, Sideways). After seeing one of her best friend's marriages end literally in gunfire, Frances announces, "I want to save my life while I still care about it."
That entails walking out on Robert to shack up with her professor boyfriend, who it turns out is unenthusiastic about evolving their relationship from "dirty little secret" to "bourgeois affair." That sends her ping-ponging back to Robert, who's also evolved: from broken-hearted to Defcon 5. What follows is the unrelievedly grim blow-by-blow of what HBO's publicity materials discouragingly refer to as "a very, very long divorce."
It's tempting to see Divorce as a sequel to Parker's long-running Sex and the City franchise on the rocky love lives of single professional women. But the affectionately mordant and ultimately hopeful good humor of Sex and the City in no way resembles the sour ruination of Divorce. Send back the cosmos and break out the crack pipes; this is industrial-strength despair.
Somewhere in between the neurotic froth of American Housewife and the emotional nihilism of Divorce hovers HBO's other new comedy, Insecure. It tracks the confused emotions of a couple of twenty-something black professional women who pose as bourgies in their office jobs by day, hip-hop sistas in the clubs by night, while their real identities wander in some undefined space in between.
Issa (Issa Rae, who wrote the book The Misadventures Of Awkward Black Girl and the web series on which it was based) is the single black employee of an otherwise all-white education nonprofit working with schools in inner-city Los Angeles. She spends her working hours passive-aggressively shrugging when co-workers ask her to explain street lingo like "fleek," her time at home wishing her slacker boyfriend (Jay Ellis, The Game) would move out.
Her best friend Molly (talk show host Yvonne Orji) is a successful corporate lawyer who despairs of finding an actual boyfriend rather than a hit-and-run artist. "You gotta fuck a lot of frogs to get the good frog," she sighs. Replies Issa: "That's not the saying. Or … anything." Her own helpful counsel: "I think your pussy's broken."
Insecure, created by Rae and Larry Wilmore, the architect of The Bernie Mac Show, seems less a sitcom than a character study inflected by melancholy humor and hip-hop idioms. It sometimes tries a bit too hard to flash its street credentials (the episodes all have titles like "Messy as Fuck" and "Thirsty as Fuck"), but that's more than compensated for by its obdurate refusal to bill itself as the master narrative of black women. It's content to be the piquant story of two confused friends trying to navigate the uncertainties of the young-adult world.
"How different would my life be if I actually went after what I wanted?" wonders Issa. It's a question you could just as easily hear from Bridget Jones—or even Carrie Bradshaw, back before she was plotting to kill her husband.