Alaska's 'Panty Peeler' Beer Under Fire for Promoting 'Rape Culture'
If anything, Panty Peeler is a beer implicitly marketed to women-not men looking to take advantage of them.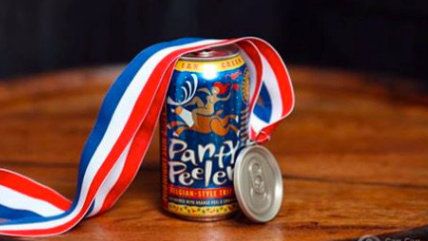 (Midnight Sun Brewing Company/Facebook)
A Belgian tripel made with coriander and orange peel, Panty Peeler gets good reviews from beer snobs and has been around since the early 1990s. But—perhaps proving that '90s political-correctness was but a gossamer wing of things to come—it has recently come under fire from the Alaska literary community for promoting "rape culture" and women's objectification.
Normally I avoid outrage stories in which the culprit is culture, not government. But this craft-beer controversy brewing in Anchorage is just too silly—and yet typical—to pass by. Apparently, some folks are appalled that the (woman co-founded) Midnight Sun Brewing Company offers a (woman-named) beer called the "Panty Peeler."
The spat, originally confined to the realm of social-media arguments, made it this week to Anchorage NBC-affiliate KTUU, which included critiques from the likes of Fairbanks teacher, poet, and Fulbright Scholar Nicole Stellon O'Donnell ("Great promotional sticker for #rapeculture! Oops, I mean beer made in the state with the nation's highest rates of sexual assault") and Anchorage playwright Peter Porco, who called the beer "retro" and "sex-aggressive."
The website Thrillist included Panty Peeler on its list of the "13 most sexist names and labels in craft beer."
Apparently beer naming isn't a factor in @cancanawards. The craft beer industry is proud of the rape-promoting beer names. #carftbeer pic.twitter.com/DFcLzFqssy

— Nicole Stellon (@SteamLaundry) October 2, 2016
But here's the thing: everything about the beer's packaging conveys just the opposite of sexual aggression or objectification. If anything, Panty Peeler is a beer implicitly marketed to women—not men looking to take advantage of them. The cans features a nude red-haired woman riding a caribou and tossing her bra and underwear into the air behind her. There are no men or anyone else around. The implication isn't some sketchy dude trying to get a woman drunk for nefarious purposes but ladies, buy this beer if you're looking for a good time.
The idea that the beer's name or label promoted sexual-violence was "very hurtful," said Midnight Sun co-founder Barb Miller, telling KTUU that most of the brewery's beers are named by women. "Our graphic artist and I spent a lot of time designing the label art because we wanted to portray playfulness and strength, especially with the Panty Peeler art. The woman is strong and adventurous; she is in charge and in control of her actions."
Of course, in 2016, any pairing of women and sexuality will be assumed by some to be a manifestation of patriarchy. We've become so sensitive to sniffing out and shaming slights against women's agency, autonomy, and equality that suddenly some of the very things earlier feminists fought for (like a woman taking her sexuality in her own hands and riding a caribou naked, I guess) are viewed with suspicion and hostility.
The Panty Peeler controversy might be a small and insignificant case, but it succinctly encapsulates a broader trend toward progressive neo-victorianism and looking at sexuality-related comments, content, and activity not through a lens of liberation but one of victimization. So even though the Panty-Peeler label explicitly features a woman exhibiting agency (by flinging off her clothes), people hear the name and assume the message target is men looking to coercively get in women's "panties," or people see the label and code it as a sexist objectification of women. "The label art of a naked female figure being carried across the sky on a flying horse doesn't exactly scream 'we value women as real people, not mythical sex phantoms!' complained Thrillist writer Dave Infante. (Can I get an eyeroll, please?)
So far, this case hasn't led to any serious censorship attempts, but that wouldn't be unprecedented. Maryland's Flying Dog Brewery only recently won a years-long battle with the Michigan Liquor Control Commission over the agency's ban on sales of its "Raging Bitch" IPA. Jacob Sullum has a brief history of other beer-labeling censorship controversies here.