Surveys Show Gary Johnson Appeal Growing Among Asian, Black, Hispanic, and White Millennials
Asked about our biggest problems, the most common answer among young black voters was racism, while Hispanics said immigration, Asians said education, and whites said terrorism/homeland security.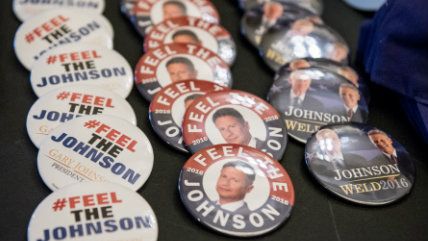 (Morgen Schuler The Photo Access/Newscom)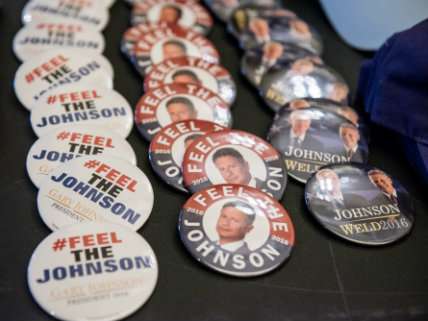 Do third-party presidential candidates fare poorly with minority millennials this election? In recent national polls, Libertarian Party candidate Gary Johnson and Green Party candidate Jill Stein have done relatively well with young voters overall. But using a series of recent surveys from GenForward, Mother Jones asserts that young black, Hispanic, and Asian Americans "are much less likely than their white peers" to support the likes of Johnson or Stein.
If we frame the same data another way, however, we get a much more third-party-pleasing view: support for Johnson among young people of color has been steadily increasing since July. And their support for Stein, while static, has mostly matched that of their white counterparts, according to the GenForward surveys.
GenForward, a joint project of the University of Chicago and The Associated Press-NORC Center for Public Affairs Research, is meant to track millennial political attitudes with atypical emphasis on including non-white participants. September respondents included 530 (non-Hispanic) whites, 517 Hispanics, 501 blacks, 261 Asians, and 42 folks from other racial or ethnic backgrounds, all between the ages of 18 and 30. The first month GenForward asked about Johnson and Stein specifically was July, with Johnson winning 8 percent of respondents overall and Stein 4 percent. In September, Stein remained at 4 percent but Johnson was up to 11 percent.
It might have been small, but Johnson's bump was the biggest change in support seen for any of the candidates since July. In September, Hillary Clinton's share of millennial voters was up just one percentage point over July, from 35 to 36 percent, while Trump was down one point, from 19 to 18 percent. (Sixteen percent of respondents said they "probably wouldn't vote," 9 percent were still undecided, and 5 percent said they were voting for someone not named).
And Johnson's appeal had increased among all racial/ethnic cohorts between the July and September surveys. Among white millennials he was up from 11 to 15 percent, among Hispanics up from 5 to 8 percent, among Asians up from 4 to 6 percent, and among blacks from 3 to 4 percent.
We should avoid making much of these ethnic and racial breakdowns, however—the margins of sampling error in the GenForward surveys were quite high. In September, for instance, the sampling error was plus or minus 5.9 percentage points for blacks, 8.6 percentage points for Asians, 6.4 points for Hispanics, and 5.7 percent for whites. That means black support for Johnson could theoretically be less than 1 percent or stand at nearly 10 percent; that Johnson voters could account for less than 2 percent of Hispanic respondents or nearly 15 percent; and so on.
For white millennials—who are the most likely to say they'll vote this November—the +/- 5.7 point margin of error could seriously close the gap between Johnson and Clinton or Trump, who each had the support of just 27 percent of whites in GenForward's September survey.
The non-race specific data is somewhat more reliable, with the overall margin of sampling error here plus or minus 3.8 percentage points.
One good sign for Johnson in this data is that the once-vast majority of young adults who didn't know who he was or had no opinion of him has become a much smaller majority. For millennials (of all races and ethnicities) surveyed, those with no view of Johnson went from 71 percent in July to 59 percent in September. His favorable rating over this period went from 18 to 25 percent, with his unfavorable rising as well, from 11 to 16 percent. Also of note to libertarians: forty-two percent of those surveyed said free trade agreements neither help nor hurt the U.S. economy, 36 percent that they're good for the economy, and 20 percent that they're bad.
Of note more generally, less than half (46 percent) of all respondents said they would definitely vote, with 20 percent saying probably, 10 percent saying probably not, 10 percent saying definitely not, and 15 percent still uncertain. White millennials were the most enthusiastic about voting, with 71 percent saying they would probably or definitely vote, compared to 61 percent of blacks, 59 percent of Hispanics, and 55 percent of Asians.
Asked about the biggest issue facing America, the most common answer among black respondents was racism. For Hispanics the top answer was immigration, for Asians it was education, and for whites terrosim and homeland security.