Pennsylvania's New Tax on Vape Shops is Forcing Them Out of Business
Both parties are to blame for a bill that's also making it more expensive for smokers to switch to safer alternatives.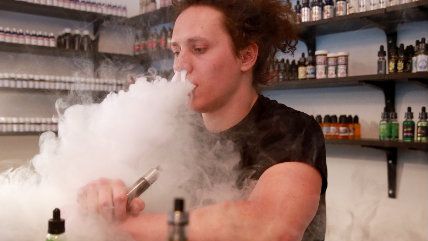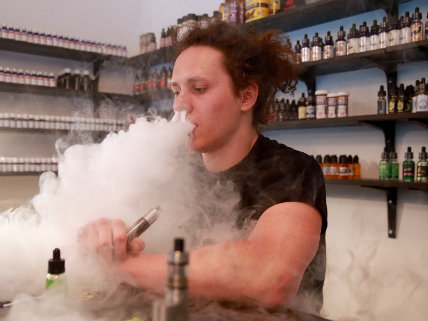 It's Friday afternoon and Chris Hughes is sitting inside his now-empty store in Williamsport, Pennsylvania.
For the past three years, Hughes owned and ran Fat Cat Vaping, one of hundreds of small shops across Pennsylvania catering to the nascent community of electronic cigarette users. Hughes is a "vaper" himself, having switched from traditional cigarettes to the healthier electronic version a few years ago.
After state lawmakers and Gov. Tom Wolf signed off on a budget bill that included a massive new tax on electronic cigarettes, Hughes knew Fat Cat Vaping's days were numbered.
"I knew immediately that I would have to close," he says.
He's not the only one. The estimated 350 vape shops scatter across Pennsylvania are getting hit hard by the new 40 percent wholesale tax on all vaping equipment and supplies. The real kicker is that the same 40 percent tax applies not only to purchases made after October 1—the day the tax took effect—but also covers all inventory on store shelves on that date. That means a store with $100,000 worth of inventory—about what a small vape shop would carry—owes the state $40,000 as of Saturday.
"It's ludicrous to think what was a viable business yesterday — by the stroke of a pen — is no longer a viable business today," Dave Norris, owner of the Blue Door vape shop in Harrisburg, told PennLive in September as he prepared to close down all three of his locations because of the tax.
The tax was passed in July as part of the 2016-17 state budget (taxes on packs of traditional cigarettes increased by $1 as well). It had support from both sides of the Republican-controlled legislature and was signed by Democratic Gov. Tom Wolf. The tax will raise an estimated $13 million.
Some aren't so sure about that.
"I am 100 percent confident that 40 percent of nothing is nothing," says Jeff Wheeland, R-Lycoming. What he means is that the state shouldn't be banking on revenue from the vaping tax if the tax decimates the businesses expected to pay it.
Wheeland and state Sen. Camera Bartolotta, R-Washington, are rallying support to repeal the months-old tax. They are proposing a volume-based tax of five cents per milliliter on vaping fluid to replace the 40 percent wholesale tax. Wheeland says the trade-off would be almost revenue neutral, but would be easier for vaping businesses to handle and would be more in line with how other states tax e-cigarettes.
Consumer Advocates for Smoke Free Alternatives, a national e-cigarette consumer group, favors the 5 percent sales tax. The 40 percent wholesale tax is "completely unworkable," the organization says.
The clock is now ticking. The wholesale tax took effect on October 1, but businesses have 90 days to remit tax revenue to the state treasury. That gives lawmakers until the first day of 2017 to repeal the tax—but with the election looming, the state legislature is scheduled to be in session for fewer than a dozen days between now and the end of the year.
Opponents of the vaping tax say it will not only wreck Pennsylvania's growing vape shops, but will also make it harder for smokers who want to use e-cigarettes to quit the habit.
"A pack of cigarettes is going to be more affordable," Dori Odosso said in an interview last week. "That's something that I don't ever want to hear someone say to me—that they are smoking cigarettes instead of vaping because they can't afford to switch."
Odosso owns the Sweet Home Vaper Company in Kittanning, Pennsylvania. She started the business in 2014 after switching from smoking to vaping and finding out that other smokers in her small hometown wanted to do the same.
Despite fears from the federal government and anti-smoking groups, medical research shows vaping to be a safer alternative to smoking traditional cigarettes. Vapers get the same hit of nicotine and get to continue their habitual activity without inhaling the nasty tar, smoke and chemicals that are part of the reason why cigarettes are so unhealthy.
A study published in August by the journal Nicotine & Tobacco Research seems to confirm the life-saving potential of e-cigarettes. As Reason reported at the time, researchers found that substituting e-cigarettes allowed nicotine intake to stay the same, while exposure to tobacco-related toxins and carcinogens fell.
Since Pennsylvania's new e-cigarette tax was passed as a stop-gap way to pay for a $31 billion state budget in an election year when broader taxes would not be considered for political reasons, it's probably right to view it as an act of political expediancy rather than an intentional whack at the vaping industry.
Intentions don't change the outcome, though. The huge tax hike sends a questionable message to Pennsylvanians who smoke, says Hughes.
"The message that our government is sending," he said Friday, just hours before the tax became official, "is that it's so wrong to use electronic cigarettes that they have to hit them with a 40 percent sin tax."
Update: An earlier version of this story inaccurately described the vaping tax proposed by state Rep. Jeff Wheeland. It is a per-milliliter tax, not a percentage tax.