Janet Napolitano Defends Free Speech on University of California Campus
But UC's president has some blind spots in her pro-free speech stance.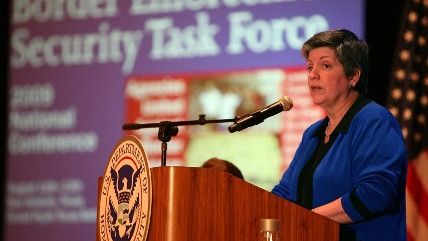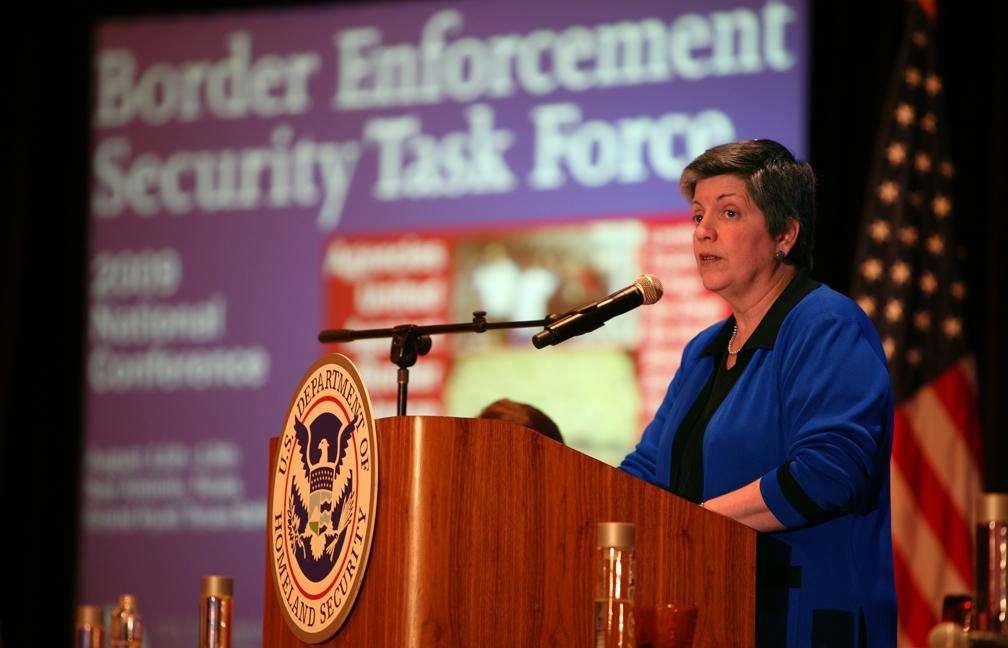 University of California (UC) President Janet Napolitano wrote an impassioned defense of free speech on college campuses, published in the Boston Globe yesterday.
The former Obama administration Secretary of Homeland Security and erstwhile Arizona governor laments "how far we have moved from freedom of speech on campuses to freedom from speech," and describes the inhibiting of "the free flow of ideas" on campus—a place meant to "incubate discovery and learning"—as possessing an "irony that gives me pause."
Napolitano makes some excellent points. Among them:
"The oldest versions of the university were institutions of indoctrination, whether by the church or by the state. Not until the potent combination of the Enlightenment with the revolution in natural science inquiry did the value of free speech in democratic societies surface."
"In 1900…the benefactor of Stanford University, forced the firing of a faculty member in large part because he supported labor unions. Not until the Berkeley Free Speech Movement of the mid-60s was the principle established that the only limits on free speech should be those defined in the Constitution, at least as far as our nation's public universities were concerned."
With regards to the tactic of shouting down offensive speech or preventing problematic speakers from having their say at all, Napolitano argues, "the way to deal with extreme, unfounded speech is not with less speech — it is with more speech, informed by facts and persuasive argument. Educating students from an informed 'more speech' approach as opposed to silencing an objectionable speaker should be one of academia's key roles."
But Napolitano loses the narrative a bit when evoking the old misunderstood saw about "yelling 'Fire!' in a crowded theater" as impermissible speech. While creating a stampede for no good reason isn't protected speech, the Supreme Court decision which birthed that cliched analogy was actually about restricting the free speech of anti-war socialists during World War I—which is the kind of speech Napolitano seemingly would support the protection of, especially considering she evokes the anti-Vietnam War Free Speech Movement of the 1960s in this op-ed.
Conspicuously absent from Napolitano's op-ed is any mention of the policy adopted by UC's Board of Regents earlier this year that appears to conflate some expressions of anti-Zionism with anti-Semitism—specifically, the "demonization of Israel, applying a double standard for Israel, and de-legitimizing Israel's right to exist," each of which was previously labeled by the State Department as an example of speech which crosses the line from political criticism of the nation-state of Israel to inciting hatred against a particular group. Though Napolitano supported the Board of Regents proposal, ultimately the board decided to list anti-Zionism as a form of "intolerable" speech, but did not impose a blanket ban on it.
It is understandable that Napolitano would not want to re-litigate that issue in her op-ed in support of free speech, but it remains a revealing blind spot. Activists on both sides of the Israel-Palestine conflict should be able to have their voices heard on campus, however difficult their ideas might be to be hear.
As I wrote earlier this year for Reason, "holding the belief that the state of Israel's creation was misbegotten or unjust is a political position, one that is frequently debated in academia. While controversial, it is not necessarily motivated by anti-Semitism any more than someone opposed to Hamas running a de facto Palestinian state in the Gaza Strip is motivated by Islamophobia."