Donald Trump Said Stop and Frisk Wasn't Unconstitutional. It Was.
Ending suspicionless searches didn't cause crime to rise in New York City.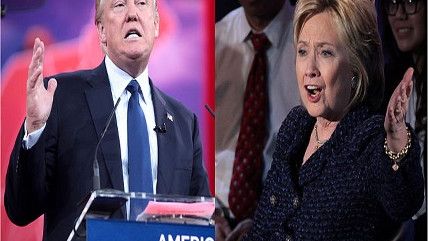 (Gage Skidmore/Krassotkin/Wikimedia commons)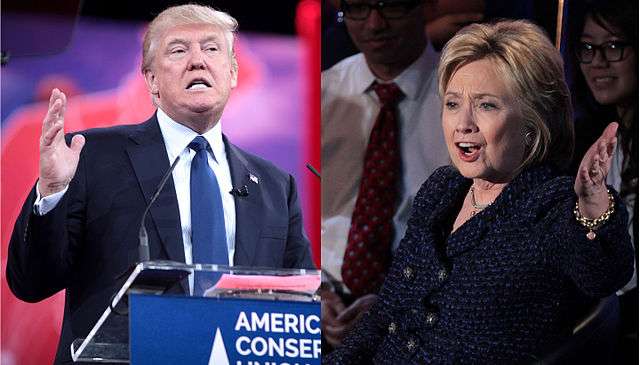 In a portion of tonight's presidential debate on race relations, Republican nominee Donald Trump extolled the virtues of the controversial police tactic known as Stop and Frisk—as a means of getting guns off the streets.
Moderator Lester Holt noted that the tactic had been ruled unconstitutional by a federal judge in New York "because it largely singled out black and Hispanic young men."
Trump disagreed, describing Judge Shira Schiendlin as a "very against police judge," and argued that current New York City Mayor Bill de Blasio—unlike his pro-Stop and Frisk predecessor Mike Bloomberg—agreed with the ruling and refused to appeal it. Trump asserted that the case would have lost on appeal, and ending the practice of Stop and Frisk allowed "bad people" to have guns and caused crime to increase.
The NYPD's Assistant Commissioner for Communication & Public Information, J. Peter Donald, responded to Trump's claim on Twitter:
Stop question & frisk has decreased nearly 97% in NYC since '11. Crime, murder, & shootings have decreased significantly during same period

— J. Peter Donald (@JPeterDonald) September 27, 2016
Donald also tweeted "Critics decried that having fewer stops in #NYC would result in higher crime. The very opposite occurred," and noted that New York "is on pace to have one of the safest years on record for crime."
A study released earlier this year by researchers from Columbia University, University of Pennsylvania, and New York University found that Stop and Frisk was only effective when deployed with reasonable suspicion—for example, when someone appears to be scoping out a potential robbery target. When the tactic was used indiscriminately, or for vague reasons such as "furtive movements," all it did was ruin the day of the person stopped, and divert a police officer's attention from real criminals.
In August 2013, Judge Schiendlin ruled that the hundreds of thousands of Stop and Frisks performed annually by the NYPD violated the 4th Amendment's protections from unreasonable search and seizure because they were based on generalized suspicion. While the practice of stopping and questioning individiuals based on individualized suspicion was ruled consititutional by the Supreme Court in Terry v. Ohio, the NYPD's use of the tactic was halted because officers were using just about any reason—including a person looking nervous or having his hands in his pockets—as justification for the stop and frisk.*
Earlier this week, Trump said in a Fox News interview that he would like to use the tactic as a crime prevention measure in high-crime areas around the country.
Watch my 2013 Reason TV doc on Stop and Frisk in New York City below:
(Update: This article has been edited for clarity.)