Charlotte Chief Won't Release Shooting Video, Clinton Aide Faces Contempt Resolution, Massive Hack of Yahoo Users: P.M. Links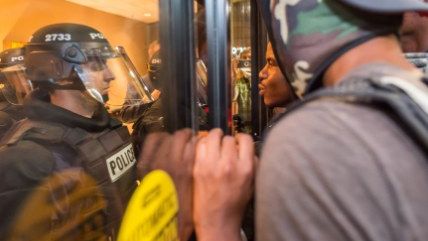 (Sean Meyers / ZUMA Press / Splash News/Newscom)
Sean Meyers / ZUMA Press / Splash News/Newscom

In the wake of protests and rioting, Charlotte's police chief said he is not going to release video footage that shows Keith Lamont Scott being shot and killed by an officer during a confrontation where there's a dispute about whether he was holding a gun.

The Tulsa, Oklahoma, officer who shot and killed Terrence Crutcher at a roadside confrontation has given her side of the story, saying she believed Crutcher was "on something," was not following her orders, and might have had a weapon. UDPATE: The officer was charged this afternoon with first-degree manslaughter.
A House panel has approved a resolution of contempt against the former Hillary Clinton aide who helped her set up her private email server after he didn't attend a hearing to testify as ordered.
Interest in Gary Johnson as a third-party candidate does not appear to be fading, as has happened with outsiders in previous races.
Google has introduced a new messaging app, "Allo," that it once promoted was having end-to-end encryption. But that encryption has been removed. Edward Snowden is warning people not to use it if they don't want their messages read or available to third parties.
Sacramento Mayor Kevin Johnson was hit with a pie at a benefit dinner Wednesday night. Johnson responded by punching the guy a few times. The man was arrested and charged with assault.
Hundreds of millions of Yahoo users have had their account information hacked. Yahoo believes the attack was state-sponsored.
Follow us on Facebook and Twitter, and don't forget to sign up for Reason's daily updates for more content.