Are Speechless, Designated Survivor, Notorious, or Pitch Worth Your Time?
Premiere week continues with four more new television shows.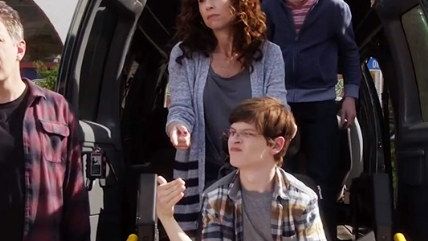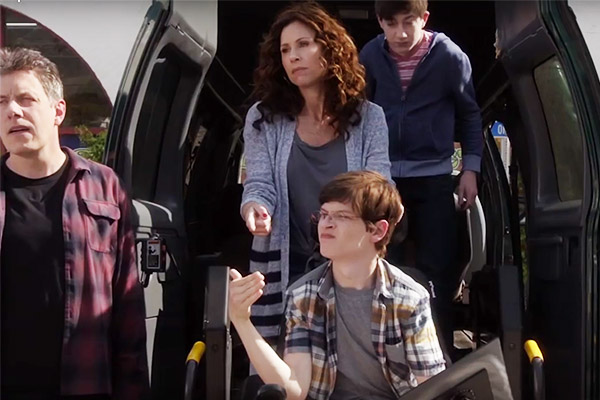 Speechless. ABC. Wednesday, September 21, 8:30 p.m.
Designated Survivor. ABC. Wednesday, September 21, 10 p.m.
Notorious. ABC. Thursday, September 22, 9 p.m.
Pitch. Fox. Thursday, September 22, 9 p.m.
As the big rollout week of the fall TV season reaches midpoint, it's a wonderful life for female baseball players, chiefs of dorky cabinet departments, wheelchair kids, sleazebucket pols and the parasitic reporters attached to their veins—and especially TV viewers. The latest batch of new broadcast shows offers a lot of pleasures, even if some of them are guilty—very guilty.
Those are plentiful with ABC's Notorious, which—spoiler alert—has nothing to with do either rap music or Nazi spies. But don't worry, there's enough social deviance for everybody.
Piper Perabo (Covert Affairs) plays Julia George, the icy producer of America's top cable-news show. "She decides what the country cares about," murmurs a breathlessly awed assistant. "She creates heroes and monsters, victims and villains." Her secret accomplice in this is Los Angeles power lawyer Jake Gregorian (Daniel Sunjata, Graceland), who publicly pretends to feud with Julia while secretly slipping her secrets that make him, if not always necessarily his clients, look good.
Their sleazy good times, however, are interrupted when one of Julia's ex-hooker staffers discovers that Julia's federal-judge fiance is a gourmet consumer of call girls, while a client of Jake's is murdered just before she's scheduled to appear on the show. Homicidal hijinks ensue, including lots of lovably sordid stunts by the show's voracious cougar anchor (Kate Jenning Grant, Frost/Nixon) and its stalkerazzi intern (Ryan Guzman, Pretty Little Liars).
There's probably no single thing here you haven't seen in one TV show or another. What makes Notorious different is that they all happen at once in a 42-minute package. In practically every frame, somebody is suppressing a news story or submarining a client or engaging in gleeful sexual predation, often all at the same time. It's hard to say which comes off as worse or more priapic in Notorious, journalism or the law; or what the reporters and lawyers enjoy more, extortion or squalid sex.
The exuberant and universal cynicism of Notorious makes it a lot of fun to watch, even as your concept of morality shrivels up like a vampire in the sun. Not that the show won't force you to ask some searching questions.
For instance: Notorious is supposedly based on the relationship between attorney Mark Geragos (of Gary Condit and Scott Peterson fame) and former Larry King Live producer Wendy Walker, both of whom get producer credits. Even in a confessional age when murderers post their kills on Facebook, you can only wonder if the lure of television celebrity has done so much damage to the human genetic code that we're on the verge of species suicide when people are willing—even anxious—to make a show celebrating their own feral treachery. If that's too existential for you, then count up all the dressing-room couplings at Notorious' notional network and try to guess how the number stacks up against one of Roger Ailes' wet dreams.
The appeal of ABC's new sitcom Speechless is less sketchy, if somewhat more surprising, unless you're among the avant-garde TV audience that's been longing for the networks to take that long-overdue comic look at cerebral palsy.
But ABC has become increasingly adept in making comedies on hot-button issues ranging from race (Black-ish and Fresh Off the Boat) to gay marriage (Modern Family) that play with politically-correct fire without burning themselves. (Though we'll also pause for a moment of silence for Crumbs, ABC's 2006 attempt at a sitcom on mental illness that was ritually put to death by critics after five episodes.) With Speechless, created and written by Friends veteran Scott Silveri, the network has done it again.
Michal Fowler (Labor Day), who in real life shares most of the disabilities of his character J.J., plays—with considerable elan—a cerebral-palsy-afflicted teenager confined to a wheelchair who communicates only via a keyboard. His family—led hair-trigger mom Maya (Minnie Driver), ever sensitive to slights both real and hallucinated—has scuttled around Southern California like a pack of hermit crabs, searching for the perfect environment.
And though their newest digs are too crummy even to be haunted—a train runs behind the place, and a cell tower in the back yard is so powerful that one family members shouts "Thirty bars! I can call God!"—they seem finally to have found the right school, determinedly progressive even by the standards of the Snowflake Generation. "We just changed the mascot from a Viking, with its connotation of pillaging and male sexual aggression, to the sea slug, which has both male and female genitalia," the principal reassures Maya. Then, however, she locks swords with the school's custodian (Cedric Yarbrough, The Goldbergs), who as seemingly the only black person in tony Newport Beach, is immune to PC extortion… .
Speechless deftly blazes trails between irreverence and crudity, topicality and political correctness. Silveri's characters include neither martyrs nor saints, and between the laughs, the show explores the emotional flashpoints in a family where so much of the energy is devoted to the special needs of one child that the others can feel neglected. But it never loses sight of the main objective, which is to be funny. It's hard not to love a show where a classroom rises to its feet to welcome a new kid in a wheelchair, then halts in mortification at its own insensitivity at offering a standing ovation.
If sitting down to watch Speechless requires a leap of conceptual faith, Fox's Pitch—a tale of major league baseball's first female player—looks dead on arrival in its opening moments. Surely there was a better way to make the point that she's a woman than to open the show with a lingering shot of the lead character, wearing only a loose tank top and panties, stretching lasciviously in her bed. It's hard to imagine a more clear statement that the show wanted to have its cheesecake and eat it, too.
But Pitch quickly moves into the strike zone. Neither didactic nor smirky, it's a compelling study not only in character but the frenetic nature of celebrity media culture.
It opens with the arrival of young pitcher Ginny Baker (Kylie Bunbury, Under the Dome), called up to the San Diego Padres from the minor leagues. A junkball pitcher who retires batters not with her arm but her brain, she's no less canny about what she faces from her teammates in the clubhouse: "Seventy-five percent of them think I'm the next San Diego Chicken, and the other 25 percent just want to see me shower."
But knowing what to expect doesn't necessarily make it any easier to cope with, particularly as she begins to sense that the job of her manager (Dan Lauria, The Wonder Years) may depend on how she pitches. Most of the other players resent her presence—they think she's a gimmick to sell tickets and bobblehead dolls, even if it costs the team some wins—and a few of them are openly rooting for her to fail. And one of her supporters, veteran catcher Mike Lawson (Mark-Paul Gosselaar, NYPD Blue), has to be cautious: Their sexual chemistry is instant, but boinking and baseball are a dangerous mix.
The chattering classes are no less raucous. "Hillary Clinton with sex appeal, a Kardashian with a skill set," proclaims one talking head, while another retorts: "She's gimmick. She's the dwarf who played for the St. Louis Browns."
All together, it's a lot of weight on a very slim pair of shoulders that already carry the lifetime dreams of Ginny's father, who refused to let his son's lack of interest in sports distract him from his single purpose in life: to raise a major league pitcher. No wonder that, when her pitches go wide of the plate in her first game, Ginny starts to implode. "I'm a robot in cleats," she despairs, "and I'm malfunctioning."
Malfunctioning athletic robots, whether metaphoric or literal, is a familiar and nearly always irresistible tale. Series creator Dan Fogelman has made it even more so by adorning it with the trappings of a soap opera for the non-sports fans and the crackle of authenticity for the baseball junkies. (Major League Baseball has partnered with Pitch and the on-the-field scenes look like they were clipped right out of Sports Center.)
In an election year when the credibility of both major candidates ranks somewhere around the level of belief in Bigfoot in national polls, metaphors aplenty about accidental presidents can no doubt be found in Designated Survivor, ABC's tense political drama about a terrorist bombing that catapults a dweeby academic from the fringes of the Cabinet into the presidency. But with reality looming all too large in the national windshield, let's stick to the facts which are: Designated Survivor has a terrific pilot episode. Yet it could go off the rails at any moment.
Kiefer Sutherland, looking like precisely the pudgy-faced sort of nerd whose squirting eyeballs he used to chew in 24, stars as Tom Kirkman, an ineffectual secretary of housing and urban development who was on the verge of dismissal when an explosion—originator unknown—obliterated the capitol dome during the president's State of the Union address and most of the government along with it. First official act after taking the oath of office: lurching into a White House bathroom to vomit. And that's before he discovers that the Iranian navy has sealed off the straits of Hormuz, through which a third of the world's seaborne oil moves. Or, for that matter, that his teenage son was late to the swearing-in because the Secret Service had to track him down at the rave where he was moving molly.
Designated Survivor (the term is government jargon for an official in the line of presidential succession) moves like a runaway locomotive; the 42 minutes of its pilot episode seem to go by in half the time. Timid, knowing he's out of his depth, and even worse, knowing that what's left of the government knows it too, Kirkman wanders the White House situation room like a wraith in a hellish Hieronymus Bosch landscape. He can't even get the room's attention until the dead president's chief of staff bellows for order. As doubt seeps across the room, a whiff of Seven Days in May comes with it.
But danger lurks in every corner of Designated Survivor, and I'm not talking about the plot. The backlots at ABC are littered with the decaying corpses of suspense thrillers with million-dollar premises (think Lost) that hadn't been thought through. Then there's the demented overuse of flashbacks to fill in details in conspiracy shows (think last season's indecipherable mess Quantico). Last and certainly not least, Designated Survivor's plot is necessarily action-oriented, but when the focus inevitably turns more to politics in later episodes, the mushhead civics-book progressivism of Mr. Smith Goes to Washington could easily rear its dented head.
On that last score, at least, I'm hopeful. Designated Survivor was created by David Guggenheim, who though previously a poster boy for inside-the-Beltway liberalism (he directed Al Gore's favorite documentary, An Inconvenient Truth), demonstrated a willingness to break liberal ranks with Waiting for Superman, which outraged progressives with its brutally frank look at the damage teachers' unions have done to public education. After facing down Washington's educrats, he should be able to slap down Frank Capra's ghost pretty easily.