Anti-Israel Speech on Campus Shouldn't Be Banned, According to CUNY Investigation
Report states "CUNY cannot punish" pro-Palestinian group for their politics, but "can still condemn" anti-Semitism.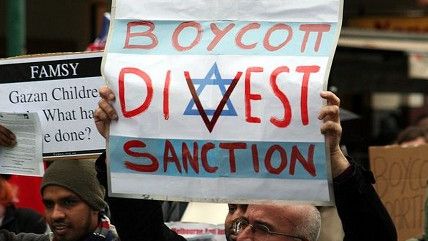 (Takver/Flickr/Wikimedia Commons)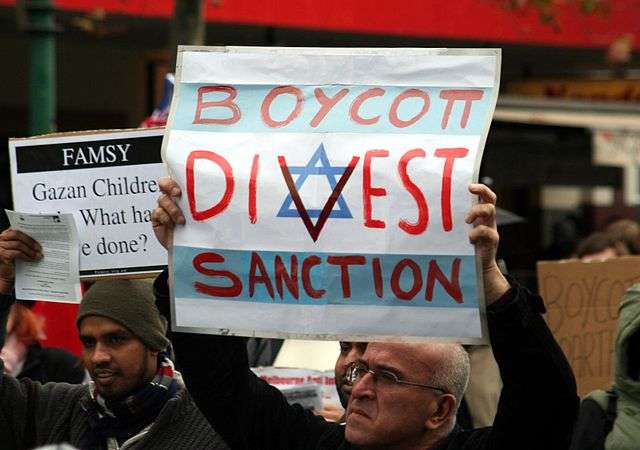 The City University of New York (CUNY) released a report earlier this month, detailing an independent investigation conducted by former federal judge Barbara Jones and former federal prosecutor Paul Schechtman into whether the actions of Students for Justice in Palestine (SJP) had contributed to an intimidating atmosphere of anti-Semitism and violence on CUNY campuses.
The extensive investigation—spurred by a letter written by the Zionist Organization of America (ZOA) that claimed SJP's actions had left Jewish students feeling "harassed, threatened, and even physically unsafe"—has led the authors of the report to conclude that it would be a "mistake" to "blame SJP for any act of anti-Semitism on any CUNY campus," and rejected calls to ban the pro-Palestinian group.
Noting that many of SJP's theatrical protest tactics such as "die-ins," mock checkpoints, and its annual "Israel apartheid week," constitute protected speech, the authors wrote, "Political speech is often provocative and challenging, but that is why it is vital to university life. If college students are not exposed to views with which they may disagree, their college has short-changed them."
This is precisely correct, and also leaves room for the university to take a stand against "hate speech," in the form of condemnation, but not officially sanctioned punishment. Also from the report:
As a public university, CUNY is limited in the ways that it can respond to hate speech, whether the words are anti-Semitic, racist, anti-Muslim, or anti-LGBT. CUNY cannot punish such speech unless it is part of a course of conduct so pervasive or severe that it denies a person's ability to pursue an education or participate in University life. It cannot mandate civility or sanction isolated derogatory comments. But what CUNY cannot punish, it can still condemn. As a general rule, CUNY's Administrators and College Presidents have spoken out against anti-Semitic comments. That practice must continue; hate speech must be challenged promptly and forcefully lest it breed.
Earlier this year, the University of California Board of Regents moved to ban "anti-Zionism" as a form of hate speech, and the New York State Senate voted to pass a bill that would defund student groups that so much as encouraged boycotts of certain countries (Israel among them). The bill died, but only because the New York State Assembly failed to vote on it before the legislative session ended.
Pointing out the absurdity and seemingly arbitrary nature of a law that would ban college students from expressing themselves politically about some countries but not others, the Foundation for Individual Rights in Education (FIRE)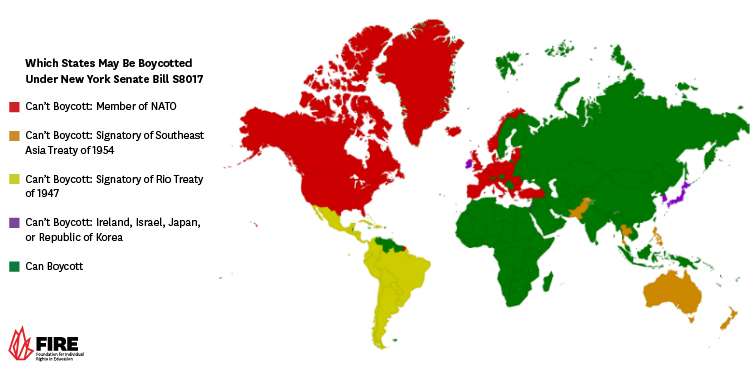 created the handy info-graphic below. FIRE's Adam Steinbaugh notes that because of the language of the bill, the Vatican, Sweden, India, all of Africa, and most of Asia would have been subject to calls for boycotts on-campus, but not Cuba, Pakistan, Venezuela, or Turkey.
Three cheers for unproductive government, because had this bill made it into the Assembly, it would have very likely passed, and free speech on campus would have suffered a staggering defeat.