Bombings in NYC and NJ, Gary Johnson Trying For Second Debate, Putin's Party Wins Big in Russia: A.M. Links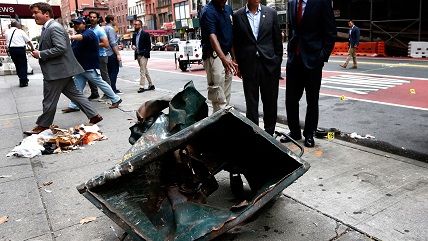 UPI/Newscom

Authorities identified Ahmad Rahami as a suspect in bombings that rocked New York and New Jersey, while the Islamic State claimed responsibility for a mass stabbing in Minnesota. A transformer also exploded made a big booming sound mistaken for an explosion in Virginia. The media and partisans reacted to reactions by Republican presidential nominee Donald Trump and Democratic presidential nominee Hillary Clinton.

Libertarian presidential nominee Gary Johnson is trying to get into the second presidential debate.
For the second night in a row, police in Philadelphia were shot at, this time after chasing a suspected marijuana user.
Vladimir Putin's party won big in parliamentary elections in Russia.
Samsung Galaxy Note 7's may be blowing up in China too.
The HBO show Game of Thrones was among those that won Emmys last night.