Gary Johnson Now Needs 42% in Final Poll to Qualify for Debates
New CBS/New York Times poll puts the Libertarian at 8%, making his 5-poll average 8.6% on the eve of the Debate Commission's decision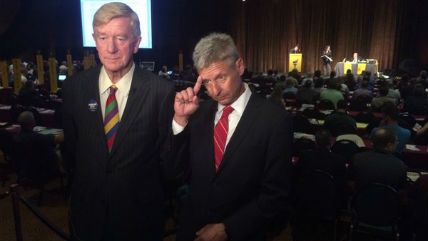 After six weeks of inactivity, the CBS News/New York Times national presidential poll, one of five selected by the Commission on Presidential Debates to create an average from which qualifying candidates will be determined in "mid-September," has finally come out with some numbers: 42 percent each for Hillary Clinton and Donald Trump, 8 percent for Gary Johnson, and 4 percent for Jill Stein. Johnson's figure in the Sept. 9-13 poll was down from 10 percent from July 29-31, but that prior result did not include Stein as an option, and there has been a previously observed Stein effect of the Libertarian losing two percentage points when the Green is first included.
Johnson's five-poll average on the eve of the Debate Commission's decision now stands at 8.6 percent, far short of the arbitrarily high 15 percent threshold for inclusion. There is one last poll that hasn't updated in six weeks, NBC News/Wall Street Journal, in which Johnson has averaged 10.3 percent across three surveys. He now needs to score 42 percent in the next NBC/WSJ poll to get into the debate front door. His previous national high—matched as recently as yesterday—is 13 percent.
The Debate Commission, a controversial "nonpartisan" organization created, staffed, and controlled by the Republican and Democratic parties, is keeping mum about when it will announce its decision, and about how such factors as margin of error will be taken into consideration. Johnson and his running mate William Weld ran a full-page ad in The New York Times yesterday beseeching the commission to relax its standards for just the first debate, and the campaign has reaching for every available crowbar to pry open the process, including lawsuits, questioning the methodology of polls, and promising to whip up outrage at the major parties' self-dealing. Given the centrality of this issue to the L.P. ticket's strategy—just yesterday in Detroit, Johnson reiterated that "To win we have to be in the presidential debates"—the looming non-invite will mark a major turning point in what has so far been the most successful third-party presidential campaign since Ross Perot in 1992.