Cop Settles Mother-Daughter Dispute By Arresting Daughter
The deputy informed the girl of her rights, and his own views on gender roles and Muslims.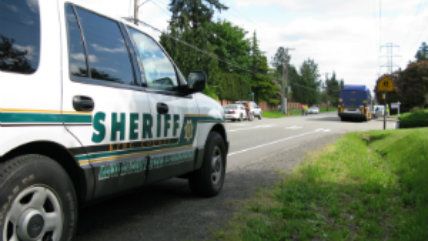 (Oran Viriyincy / Flickr)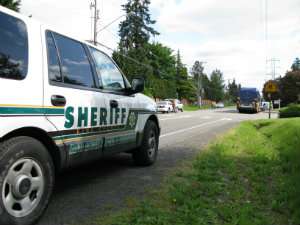 The Washington County Sheriff's Department in Oregon is attracting some unwanted attention after one of its deputies was caught on camera making controversial statements about Muslims, women, and childrearing while arresting a 14-year-old girl.
The incident occurred last Saturday. Deputy Brian Klostreich responded to a possible domestic violence situation that apparently involved a shouting match between mother and daughter over confiscated makeup. According to neighbor Darren Hall, the deputy's "booming voice" prompted him to take out his phone and start recording.
From what can be gleaned from his edited video, which was released by OregonLive, Klostreich appears mostly calm while speaking to mother and daughter at the door of their home.
His efforts, however, to speak some sense into the errant teen came with some advice that is now proving controversial—including the suggestion that that the child's mother should have "slapped her in the face" and that were his kids to behave in a similar fashion he would "beat the hell out of them."
Klostreich goes on to offer a less-than-modern take on gender roles in society. In a reference to the girl's male guardian being at work, he states, "That's adulthood. That's traditionally what a man's supposed to do. If we can afford it in society the man should be working, and the mom should be at home." He followed this with an attempt to put the girl's teenage angst in a global perspective: "You could be in the middle east with a rag over your head."
At one point during the interaction, Klostreich asks the mother if she would like her daughter arrested. The mother agrees, and the 14-year-old is seen exiting the apartment in handcuffs.
Both the OregonLive article and online commenters have mostly focused on the comments Klostreich made, and there's certainly much one could take issue with there. But perhaps the larger issue is that a police officer is being called on to discipline a child in the home. Traditionally—and Klostreich appears to be nothing if not traditional—it's up to parents to handle disobedient children. Yet both officer and mother seem wholly content with involving the criminal justice system in this particular domestic tiff.
Sadly, this is hardly a new phenomenon. Reason's Robby Soave has exhaustively cataloged a growing trend of schools using police to discipline their students over everything from sexting to brownie jokes. It appears that some parents are likewise OK with minors being treated as criminals first and children second.