After a Century of Backing Republicans, New Hampshire Union Leader Endorses Gary Johnson
Newspaper editorial count now 5 for Clinton, 4 for Johnson, 0 for Trump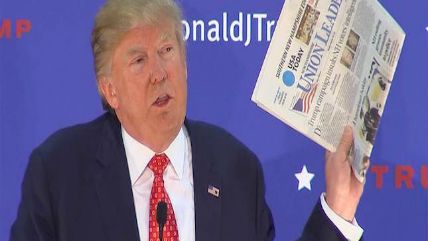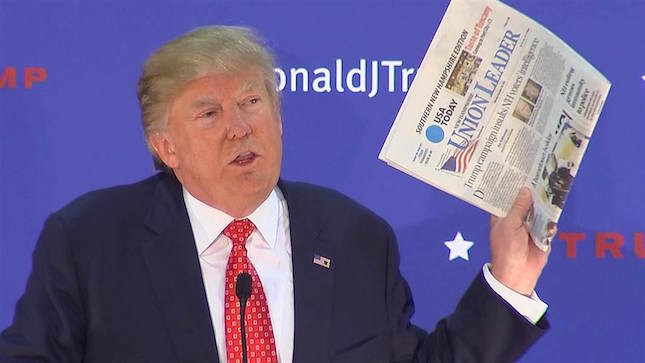 The New Hampshire Union Leader has long wielded an outsized influence on national GOP politics, being a conservative thought leader in an early-primary state. Tomorrow, on its front page, the paper will for the first time in a century endorse a non-Republican for president: Libertarian Party nominee Gary Johnson.
The editorial, written by Publisher Joseph W. McQuaid, is entertainingly scathing, and starts off like this:
In 1972, Union Leader Publisher William Loeb found himself having to recommend either President Richard Nixon or challenger George McGovern.

Loeb's advice: Hold your nose and vote for Nixon.

At least Loeb had a choice between two capable, if flawed, candidates…. Loeb would not envy the choice America faces today between a selfish, self-centered, sanctimonious prig and Donald J. Trump.
Trump, on the other hand, is "a liar, a bully, a buffoon," who has "changed political views almost as often as he has changed wives." Rejecting the lesser-of-two-evils formulation, McQuaid pronounces both Johnson and vice presidential nominee William Weld as comparatively virtuous: "Their records (as Republican governors in politically-divided states) speak well of them. They would be worth considering under many circumstances. In today's dark times, they are a bright light of hope and reason."
The Union Leader (which had previously in a companian editorial praised Johnson and Weld while pushing for their inclusion in the presidential debates) joins the Richmond Times-Dispatch, Winston-Salem Journal and Caledonian Record (of New England) in backing Johnson, making Wikipedia's unofficial newspaper-endorsement tally 5 for Clinton, 4 for Johnson, and 0 for Trump. While it's still way early, and unsigned editorials have less influence by the minute (thank God!), that preliminary ratio is remarkable.
And as The New York Times notes, Clinton is outpolling Trump by a nose in New Hampshire, while Johnson has healthy support. The last three Granite State polls over the past month have averaged 41 percent for Clinton, 35 percent for Trump 14 for Johnson, and 4 for Jill Stein. The Johnson campaign will no doubt try to leverage this in its frantic, last-ditch effort to push its way into the first presidential debate Sept. 26.