Watch Elton John's Immensely Moving 9/11 Version of "Rocket Man"
Art mostly failed us after the 9/11 attacks, but Captain Fantastic and others bound our wounds with spectacular responses.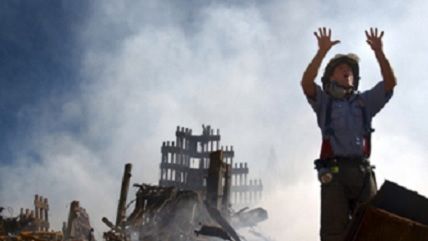 On the 10th anniversary of the 9/11 attacks, I published an essay in Reason titled "Why Art Failed Us After 9/11." My basic argument was the terrorist attacks on the World Trade Center and the Pentagon were ultimately so senseless and pointless that they mostly escaped our capacity to come to terms with them. A number of prominent artists, musicians, and writers—I focus on Bruce Springsteen and Don DeLillo at length—tried to process the attacks and failed, largely because they refused to inhabit the actual scene of the crime. Ground Zero, it seemed, was the one place no one could figuratively stay near because the mound of flesh, bone, and rubble was just too much to bear.
At the same time, there were artists who I thought rose to the occasion, especially in terms of offering comfort in the aftermath of the attacks. From the essay:
Two consciously artistic gestures stand out, one of them ephemeral and the other highly praised. In December 2001, Elton John performed a "Live by Request" concert on the A&E cable channel, in which fans could call in and ask the one-time Captain Fantastic to perform their favorite tunes. Like McCartney, Young, and Springsteen, John has seen far better days, both as an artist and as a seller of merchandise. No act dominated the '70s charts like Sir Elton, that rare pop star whose commercial success was surpassed only by his interest in pushing the envelope musically. Since that long-ago heyday, he has survived a sham marriage, cut-out bins full of regrettable albums, hair plugs gone bad, multiple addictions and near-bankruptcies, the almost total loss of one of the most memorable voices in rock, and worse. He soldiers on, touring well past middle age, fat, bald, off-key, and generally happy.

A woman called in to John's concert and explained that her husband was a first responder who died at the World Trade Center on 9/11. She said that his favorite song was John's 1972 hit "Rocket Man (I Think It's Going to Be a Long Long Time)." There John was at the piano looking uncomfortably from the side like Marlon Brando tickling the ivories in The Island of Dr. Moreau, wheezing his way through a song that all of us had heard a million times before, including unintentional and intentional parody versions by the likes of William Shatner, Chris Elliott, and Stewie from Family Guy. The song's scant lyrics can be charitably described as sub-literate ("Mars ain't the kind of place to raise your kids…and there's no one there to raise them if you did") yet in John's croaky reading they managed to capture a profound sense of isolation, fear, and loss eerily resonant with the moment: "I miss the Earth so much, I miss my wife/It's lonely out in space/On such a timeless flight/…Rocket man, burning out his fuse up here alone." John was sweating profusely, his voice cracking on virtually every note, high and low. The song hushed the crowd, giving all who heard it four minutes of intense communion with the dead.

I've searched for that particular performance online but haven't been able to locate it. The other brilliant meditation on 9/11 suffered no such fate. The 2008 documentary Man on Wire is readily available for sale online and can be streamed at sites such as Netflix and Amazon. The deserving winner of an Academy Award, James Marsh's film retells the story of the French aerialist Philippe Petit, who in 1974 strung a cable between the Twin Towers and spent the better part of an hour performing 1,300 feet above a sparse but rapidly growing audience in lower Manhattan before being taken into custody. No moving footage of the actual performance remains, so the narrative is told through period stills, newsreels, interviews, and dramatic reconstructions. As with 9/11, we know how the story ends, yet the tension throughout the film is almost unbearable.

US Navy, Wikimedia

Time and again, Petit's grand, long–planned conspiracy almost fails to come together, and yet when he finally takes to the air, all those struggles melt away into a celebration of man's outer limits of possibility as Petit literally dances on thin air. The tight-rope walker and his confederates, along with everyone from the comically accented and mustachioed cop who arrests Petit after the act to newscasters from the '70s, meditate in real time and in retrospect on how they knew they were participating in something that would never happen again—that could never happen again. New, tighter security measures would see to that, but also because Petit had crossed over into international celebrity. The world of all those involved was irrevocably changed.

The brilliance of the movie is that it allows us to visit the World Trade Center and linger there for as long as we wish, while never pretending to forget the gaping hole that will always be there no matter what physically replaces the destroyed buildings. The film is no exercise in feel-good nostalgia; it doesn't allow us to escape the utter destruction of 9/11 so as much as it compels us to face a moment in time that can never be revised. It is what it is, to quote a phrase that became ubiquitous after 9/11. Throughout Man on Wire, all the people involved in Petit's plot—an immensely complicated and lucky conspiracy of joie de vivre that almost perfectly mirrors the dark-hearted death plot of 9/11—break down in tears as they recall the precise moment when the tightrope walker stepped out into the void between the North and South Towers. Decades later, they are rendered mute by memory, overwhelmed by the recollection of a moment when the unthinkable became reality, if only briefly.

It is in those unstoppable, unabsorbable tears that art honors the dead of 9/11, because it allows us to remember a day we all wish to forget. Here art offers not a refuge from reality but an entry back into it. "Two years, ten years," writes Sandburg, "and the passengers ask the conductor, What place is this? Where are we now? I am the grass. Let me work." The most powerful art of 9/11 refuses to let that happen by refusing to insist that we must make sense out of a senseless act.
Read "Why Art Failed Us After 9/11."
As it happens, Twitter user RModiz sent me a link to Elton John's post-9/11 concert and I'm happy to share his live version of "Rocket Man" from December 2001. It should be cued up to that moment, but if not, it begins at the 22-minute mark:
And here's the trailer for Man on Wire, which is available on various streaming services: