Female Student Admits to Incredible Lie That Got Auburn Football Player Kicked Off Team
Says Title IX coordinator 'really wanted to make it a big deal, after I told her basically that I lied.'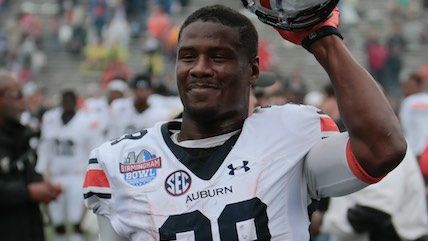 (Bobby McDuffie/Icon Sportswire CGR/Bobby McDuffie/Icon Sportswire/Newscom)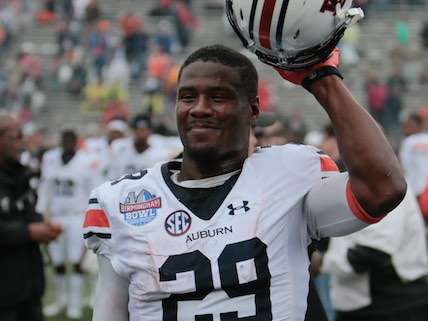 Auburn University dismissed running back Jovon Robinson—formerly the No. 1 junior college player in the country—after a female student accused him of assaulting her.
"He did not meet my expectations of what it takes to be an Auburn Tiger football player," said head coach Gus Malzahn, according to al.com.
But Robinson never assaulted anyone. His purported victim made it up entirely. The woman now readily admits to fabricating the allegation out of spite—she was angry at Robinson for making her leave his room.
It's an astonishing, malicious lie that might have factored into Auburn's decision to release Robinson, though the university maintains that it had other issues with him. It's also a powerful repudiation of the leftist-feminist idea that victims of assault and sexual assault deserve to be automatically believed.
According to al.com—which obtained an exclusive interview with the woman—the pair had an argument very early in the morning on July 15. Robinson wanted her to leave, and eventually escorted her out of his room. He didn't hurt her at all.
At roughly 6:00 a.m., the woman sent an email to Coach Malzahn to make him aware that Robinson had abused her. She said that Robinson caused her to smash her head into the door and bloody her knees. She wrote in the email:
Although I have every reason to, I chose to not get the law involved; as I know how nasty things could get; especially for someone in his position. Therefore, I am trying to keep the situation as private as possible. With this being the second or third time an incident of this sort has happened with him, I believe that it is time he be held responsible for the way he has been acting toward not just me, but women in general. Although were [sic] are very close, as I said before, I will make sure to stay away from and not contact him."
Malzahn took the accusation very seriously. He forwarded the email to Auburn's Title IX coordinator, Kelley Taylor, noting that it was the first time he had heard "of any incident regarding Jovon and any female."
Taylor contacted the woman later that same morning, letting her know that Malzahn wanted to "take some precautionary steps" but that the university couldn't do anything until Taylor had spoken with her. Taylor asked for pictures of her injuries as well.
"Me knowing that it wasn't true, I never did [send Taylor pictures]," said the woman in an interview with al.com.
Indeed, the woman soon confessed to Taylor that she had made up the story. Interestingly enough, according to the woman, Taylor seemed interested in proceeding anyway:
(Taylor) really wanted to make it a big deal, after I told her basically that I lied," the accuser told AL.com. "I can see her calling me one time after I said it, but two times and then a week later? That kind of made me wonder, why was she trying to do that?"
Keep in mind that the woman is an admitted liar—it's certainly possible she's lying about Taylor's statements here, too.
After Robinson was dismissed from the team, the woman seems to have felt some remorse for him. She emailed Malzahn to make sure he knew she had lied:
"I'm not sure if your decision today had anything to do with my situation a few weeks ago, but I just wanted you to know that I made up the entire thing simply because I was upset with Jovon at the time," the accuser wrote to Malzahn. "I haven't had any contact with him in the past few weeks but I do not think my lie should have costed him his spot on the team. Please consider changing your mind because I would really hate to see a person with so much potential lose his opportunity because of my silly fib. Jovon didn't do anything to me that night but ask me to leave his room and I was upset about that."
As I noted earlier, the university maintains that Robinson was dismissed "for a number of incidents" and wouldn't comment on whether the woman's accusation had anything to do with it.
Al.com preserved the woman's identity, for reasons I don't understand. She is a student, but by her own admission, she is not the victim of any crime. On the contrary: Robinson is the victim.