Louisiana's New 'Blue Lives Matter' Hate Crime Law Already Being Misused
Man charged with felony enhancement for yelling slurs at police while being arrested.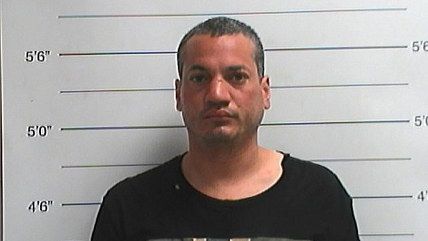 (Orleans Justice Center jail)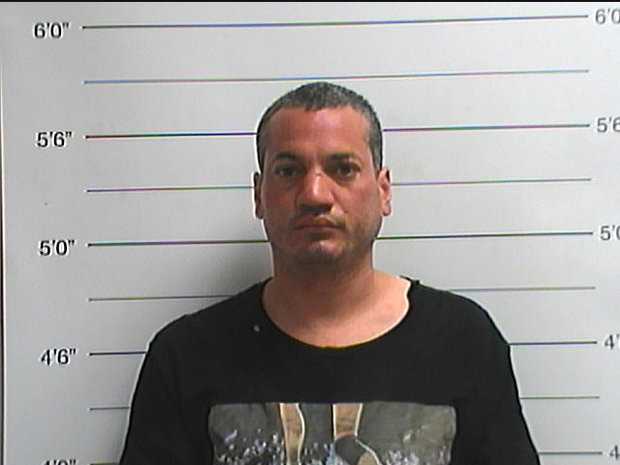 In May, Louisiana passed a law adding police officers and emergency responders to the state's hate crime protections, meaning that crimes that target police officers and emergency responders because of their occupations can lead to serious penalty enhancements.
This week, New Orleans police appear to have charged a man with violating this law for the first time. The problem: Not only did the man not commit a hate crime under the definition of the law, the behavior that got him charged isn't even a crime. He was arrested for an actual crime, but police then used his unruly behavior apparently as an excuse to up the charges. The Times-Picayune reports:
Raul Delatoba, 34, was booked Monday (Sept. 5) on charges of simple criminal damage to property, disturbing the peace and a felony-level hate crime, his arrest warrant says. During his arrest, but after he had broken the window, Delatoba is accused of using sexist and racial slurs against police officers, the document shows. …

According to arrest documents, Delatoba was drunk and banging on a window at the Royal Sonesta Hotel, 300 Bourbon St. around 5:15 a.m. Monday, when a witness who heard the banging told him to stop. Delatoba's warrant says he yelled at the witness, "calling him a n—–."

That witness, a security guard who works at a nearby building's mezzanine, along with a security supervisor for the Royal Sonesta, flagged down two Louisiana State Troopers who then escorted Delatoba to NOPD's 8th District station, the warrant states. Once at the station, the warrant states, Delatoba began to verbally "attack members of the New Orleans Police Dept." The warrant states Delatoba called one female officer a "dumb a– c—" and another officer a "dumb a– n—–."

The warrant states Sgt. S. Jackson instructed NOPD Officer Williams Knowles to charge Delatoba with a hate crime in addition to damaging property and disturbing the peace. "The hate crime charge stems from Delatoba's attack on individuals based on their race, sex, and occupation," the warrant states.
So, really, he's being charged with acts of hate speech. The newspaper spoke with a hate crimes expert who consults and advises the police. She pointed out that this doesn't appear to be a violation of the hate crimes law (regardless of whether one supports such law). As terrible as the slurs are, simply yelling offensive terms does not a hate crime make.
The New Orleans Police Department seems to realize this mistake, and in a follow-up story posted this evening, a spokesperson for the department said that they believe the law had been incorrectly applied. But the case has already been submitted to the district attorney's office, and they'll have to decide whether or not to keep the charges.
As somebody who has read many, many, many reports of anti-gay assaults and violence over the years, I just want to point out that while it probably looks clear to everybody outside the police that this wasn't a hate crime (again, regardless of a position on hate crime laws), what do people consider when evaluating the credibility of hate crime claims against other minorities? Things like whether the person assaulting a gay person or other minority shouted bigoted slurs, just like Delatoba did here. That is one of the factors used to decide that a crime is motivated by hate, and many supporters of hate crime laws get very, very upset when police don't immediately accept that hate speech as evidence that a hate crime occurred. But since we don't have the ability to read minds, what hate crime enhancements often actually do is add additional punishment based on what people say or express while committing a crime.
Here's Elizabeth Nolan Brown supporting presidential candidate Gary Johnson for opposing hate crime laws as an unnecessary expansion of our tendency toward incarceration. If prosecutors refuse to drop the hate crime charge against Delatoba, he could face an additional five years in prison and a $5,000 fine. The release bond for Delatoba's "hate crime" charge of yelling bad words ($10,000) is actually higher than the amount for the vandalism ($5,000) that drew the police in the first place.