First Relevant Poll in Nearly a Month Is Very Bad News for Gary Johnson's Debate Prospects
Fox News has the Libertarian at 9%, making his national average in the polls that matter 9.2% with two-plus weeks before the 15% cutoff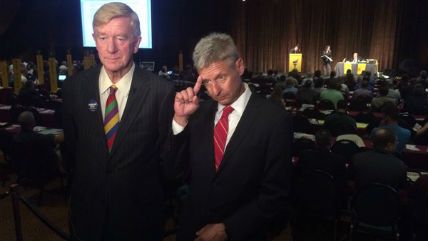 Since the Commission on Presidential Debates (CPD) on Aug. 15 announced the five polls that it would be averaging from in mid-September to determine whether Libertarian Party nominee Gary Johnson had passed the steep 15 percent threshold for inclusion in this fall's debates, the Johnson campaign and other observers have been waiting on tenterhooks for new polling results. And waiting, and waiting….
In a striking coincidence, none of the five polls, until tonight, had issued a peep for the past three weeks, despite two of them (NBC News/Wall Street Journal and ABC News/Washington Post) previously averaging results every three weeks, and two others (CNN/ORC and CBS News) polling voters three times each in the admittedly convention-heavy month of July alone. Well, the fifth poll, Fox News, finally dropped tonight, and the results are terrible for Gary Johnson's debate prospects: 41 percent for Hillary Clinton, 39 percent for Donald Trump, 9 for Johnson, and 4 for Green Party nominee Jill Stein. If the debate commission were making its calculations today, Johnson would be at 9.2 percent, nowhere remotely close to inclusion.
The news for Johnson is, if anything, worse than that.
Up until now, Fox News hadn't included Stein in the polls, and Gary Johnson had averaged exactly 11 percent. In the absence of any broadly observed Libertarian decline in national surveys, that suggests a possible two-point Stein Effect, one that is also observable in the research from the firm Morning Consult: In four Stein-less polls conducted in July, Morning Consult recorded a Johnson average of 11 percent; in four polls since he's been at 8.5 (with the Green candidate at 4). Since one other firm of the Big Five, CBS News, has also not polled Stein previously, and since that survey has averaged just north of percent for Johnson in four polls since June, it's not hard to imagine the Libertarian rolling another 9-spot if and when Stein is included.
So will CBS start asking about Stein? "We don't discuss timing or makeup of polls prior to their release," said Director of Communications Caitlin Conant in an email. The word "timing" here key—there are only 16 days until mid-September, so if these polls are conducted at August's slow rate, the next results may well be Johnson's last. (None of the other polls responded to my requests about when they will ask or publish.) And the optics of starting off at 10 percent—the five-poll average three weeks ago—and then going down to 9 percent, even if explained mostly by the inclusion of Stein, do not tell a helpful story about momentum.
A campaign that has invested nearly all its energy to either get in those polls or it's "game over" will, in the absence of drastically better news coming from one of the other four polls, soon need to refocus the effort from making that 15 percent to agitating in the court of public opinion that the standard itself is self-dealing and bogus, and needs to be changed or otherwise somehow worked around. In any case, time is clearly running out.