Newly Revealed Benghazi Emails Bring Hillary Clinton's Server Scandal Full Circle
At least 30 of Hillary Clinton's supposedly non-work-related emails discussed Benghazi attack. It's a good time to revisit her decision to attack Libya, too.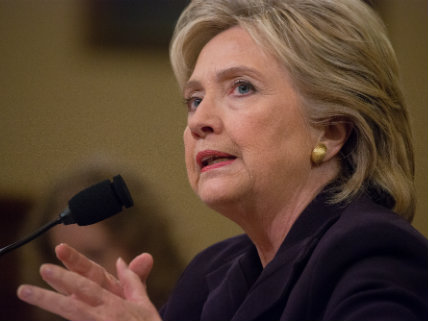 The FBI successfully recovered nearly 15,000 emails previously deleted from Hillary Clinton's private server, and we now know that at least 30 of those emails discussed the 2012 terrorist attack in Benghazi, Libya.
These newly discovered Benghazi emails will add fuel to the fire surrounding Clinton's decision to use a private email server while she was Secretary of State and could raise further questions about whether she fully cooperated with an investigation into the attack that killed four American diplomats in Libya on September 11, 2012.
Even as this revelation adds a new dimension to Clinton's ongoing email scandal, it also brings the whole investigation back to where it started. It was the congressional inquiry into Clinton's handling of the Benghazi attack that initially uncovered Clinton's use of a private email server. After being ordered to turn over the content of that private server to the committee investigating Benghazi, Clinton's lawyers hastily deleted nearly 15,000 emails and claimed they were not connected to official government business. The FBI's subsequent criminal investigation of her use of a private server while being Secretary of State resulted in some of those deleted emails being recovered via a variety of different means and, well, now here we are back at Benghazi.
The Associated Press reports that the existence of the emails was confirmed by the State Department on Tuesday in a federal court hearing. The hearing was part of an ongoing lawsuit brought by Judicial Watch, a conservative group that has filed federal Freedom of Information Act lawsuits seeking the disclosure of Clinton's emails. In response, the State Department said the FBI has turned over about 14,900 emails "purported not to have been among those previously released," the AP reported.
Previously, Clinton has told reporters and a congressional committee that all work-related emails were turned over last year—and even though these new emails may well turn out to be of a personal nature, it's hard to believe that any discussion by a sitting Secretary of State about a terrorist attack on a U.S. consulate would be completely non-work-related. The text of the emails will not be released for at least another month, while the Department of State reviews and redacts them, according to the AP.
This isn't the first time questions have been raised about whether Clinton actually turned over all the relevent emails from her work at the State Department. In June, the Wall Street Journal reported on a 2010 email exchange between Clinton and Huma Abedin, her top aide, in which the secretary worried about her personal email becoming accessible to the public. That exchange was included in the State Department Inspector General's report on Clinton's email use but it was absent from the files turned over to the FBI and released to the public—a sign that was "raising questions about the thoroughness of her disclosures to the government and her record-keeping practices as secretary of state," the paper said.
Those questions will be raised again in the wake of Tuesday's disclosure—more loudly, one would expect, since the public has more awareness of the Benghazi attack than it does about internal State Department IT policies.
Clinton was cleared of any criminal wrongdoing in July by FBI Director James Comey, though he said she was "extremely careless" in handling important government information. It's too soon to know whether the content of those 30 emails (or any others) will bolster a potential perjury case against Clinton.
Even if there are no additional legal repercussions for Clinton, the very existance of these deleted Benghazi emails could hurt her politically by giving voters another reason to distrust the Democratic nominee.
"Clinton swore before a federal court and told the American people she handed over all of her work-related emails. If Clinton did not consider emails about something as important as Benghazi to be work-related, one has to wonder what is contained in the other emails she attempted to wipe from her server," said Jason Miller, a spokesman for Donald Trump's presidential campaign, in a statement.
As of Tuesday afternoon, Clinton's campaign has not commented on the discovery of the Benghazi emails.
Having Benghazi back in the news is bad for Clinton on another front, too, though the Trump campaign may not be deft enough to exploit it.
On top of her handling (or mishandling) of the Benghazi incident, Clinton should face tougher questions over her decision while Secretary of State to push the Obama administration into attacking Libya—a move that has left the country in turmoil and potentially turned it into a breeding ground for terrorism. Obama has admitted that the Libyan intervention was a mistake, but Clinton has not given any indication that she would approach foreign affairs any differently as a result of lessons learned there.
Related Video: Hillary Clinton vs. James Comey: Email Scandal Supercut