Lobbyists For EpiPen Maker Included Former Clinton and McConnell Aides
Records show that Mylan spent more than $2 million on Washington lobbying in 2015.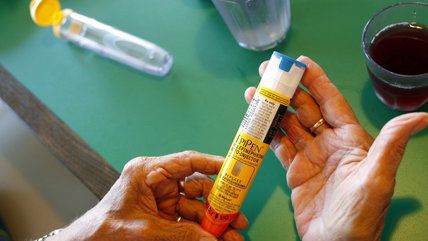 (Tampa Bay Times/ZUMA Press/Newscom)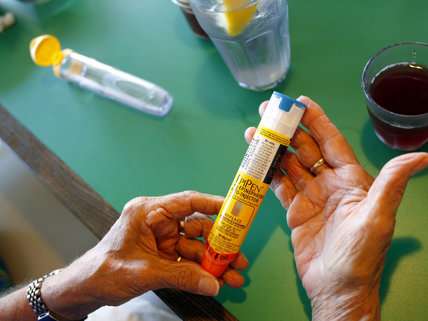 The most expensive school supply our family purchases each year comes from the pharmacy: a new package of EpiPens to have on hand in case of a allergic reaction. So I've been following the flap over pricing the pre-loaded injection devices with more than casual interest. At first glance, the story fits neatly into the familiar framework of out-of-control greed: Pharmaceutical company CEO gets paid nearly $19 million a year while raising the list price of a two-pack of EpiPens to $600 from $100.
But the more one gets into it, the more the case of the drug company Mylan and its Washington lobbying fits some other story lines. There's the one about Washington being a revolving door, where government officials monetize their government service by going to work afterward in the private sector. And the one about Washington being a vending machine, where companies and their executives put money in by hiring lobbyists or making campaign contributions, and get favors out in the form of legislation, contracts, or regulatory decisions that protect their profits. And finally, the one about how "both sides do it"—both Republican and Democratic politicians try to shake down these drug companies, and both Republican and Democratic staffers wind up getting paid by them.
Senate lobbying records show that Mylan spent more than $2 million on Washington lobbying in 2015. In addition, the company's political action committee has distributed more than $79,500 in contributions for the 2016 election cycle, according to campaign finance records available at OpenSecrets.org.
The lobbying disclosure forms tell a remarkably bipartisan story. Mylan paid $40,000 to hire Scott Evertz, who had been director of AIDS policy in the George W. Bush administration. It paid $70,000 to the Glover Park Group; that bought the services of Joel Johnson, who is a former senior aide to President Clinton, and of Gregg Rothschild, who had been chief counsel to Democratic congressman John Dingell, longtime chairman of the House commerce committee. And Mylan paid $240,000 to a firm called West Front Strategies, whose partners include Malloy McDaniel, a former policy adviser to Senate Republican Mitch McConnell.
The Mylan political action committee gave $7,500 to Democratic Sen. Chuck Schumer's campaign for the 2016 cycle and $3,500 in the 2010 cycle, according to the Open Secrets records. Mylan's CEO, Heather Bresch, is the daughter of a Democratic U.S. Senator from West Virginia, Joe Manchin; when she recently spoke with The New York Times, she listed among her top accomplishments the passage of a federal law, the Generic Drug User Fee Amendments of 2012, requiring increased inspections of overseas drug manufacturers.
The Democratic presidential candidate, Hillary Clinton, issued a statement "calling on Mylan to immediately reduce the price of EpiPens." And the Republican chairman of the Senate Judiciary Committee, Charles Grassley, fired off his own stiff letter to Bresch expressing concern about the price increases.
If Mylan didn't have to spend so much money on Washington politics, maybe it could afford to sell the EpiPens for less money. Or maybe if Mylan weren't spending so much money on Washington politics, other companies would have an easier time getting government permission to offer competing products.
A common criticism of pharmaceutical companies is that they spend too much money on marketing, whether it's those television commercials you may have seen while watching the Olympics or all those salesmen and women who take your doctors out to fancy dinners. The Washington component of all that is lower profile, but it adds up, too, contributing to higher medicine prices, higher health insurance premiums, and higher levels of cynicism among ordinary Americans about government and business.
Wouldn't it be nice if the way to make money in the drug business were inventing a new cure, rather than hiring a bunch of political hands to figure out how to milk the most money possible out of a medicine that already exists? I've long been convinced that the two things aren't mutually exclusive—in other words, that maximum profits create the incentives and the resources to fund innovation. Could be. But what's a scientific researcher to think when the prize for a discovery is the chance to spend $2 million a year on Washington lobbyists to defend it?