Outrage Over U. Chicago Trigger Warning Letter Shows Power of Political Correctness
Uncomfortable learning under threat.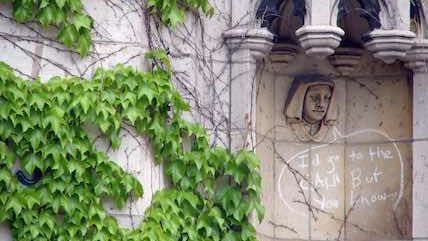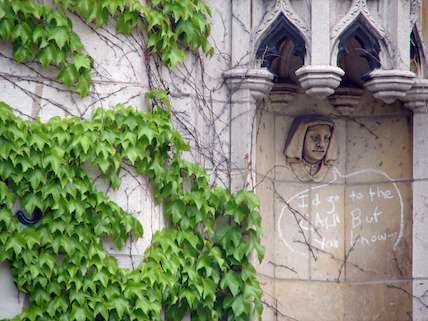 You would think University of Chicago Dean of Students John Ellison had written something truly incendiary, given the response from the left. The New Republic's Jeet Heer called Ellison's letter a "perverse document." Slate's L.V. Anderson branded it "very odd," while suggesting that the university is further marginalizing students who already feel marginalized.
What was in the letter? Here's the most controversial paragraph, once again:
Our commitment to academic freedom means that we do not support so-called "trigger warnings," we do not cancel invited speakers because their topics might prove controversial, and we do not condone the creation of intellectual "safe spaces" where individuals can retreat from ideas and perspectives at odds with their own.
The fact that such a declaration is outrageous to left-leaning thinkers shows just how polarized the national discussion about the campus climate has become. Many people on the right feel a need to berate teenagers for being delicate snowflakes and fragile crybabies every time a student does something stupid. At the same time, the left insults students, too: by treating them as if they are delicate snowflakes and fragile crybabies who need protection from every conceivably hurtful word. Slate's L.V. Anderson is a perfect example of this:
By deriding "safe spaces" and "trigger warnings" before students arrive on campus, the University of Chicago is inadvertently sending a message that certain students—the ones who have never been traumatized, and the ones who have historically felt welcome on college campuses (i.e., white men)—are more welcome than others, and that students who feel marginalized are unlikely to have their claims taken seriously. Adults who decry "the coddling of the American mind" will likely celebrate U. Chicago's preemptive strike against political correctness, but students who have experienced violence, LGBTQ students, and students of color likely will not.
I'm sure Anderson means well, but this kind of thinking is offensive in its own right. Who's to say that students who have experienced violence, LGBTQ students, and students of color are super duper extra sensitive? For my part, I would expect victims of violence to be tougher and thicker-skinned than the average teenager, because they have experienced trauma—not the trauma of hearing something they mildly disagree with, but actual trauma.
New York Magazine's Jesse Singal makes a more reasonable criticism of the letter's rejection of trigger warnings:
Trigger warnings, to the extent we have data on their prevalence, appear to be a ghost of an issue on most campuses, and at root they're just content warnings anyway. The university, as a body, doesn't "support" an English professor giving students a quick heads-up that there's a difficult rape scene ahead? In a similar vein, what does it mean to say the university doesn't "condone intellectual 'safe spaces'"? Obviously, the university "condones" Christian students' ability to set up times and places where atheists won't harangue them, or for LGBT students to set up a place where conservative Christians won't harangue them. That's all a "safe space" is in the classical sense of the word. So there's definitely a bit of pandering in this language — the letter is throwing up a flag for people who are concerned about political correctness on campus, saying, This isn't that sort of school.
For what it's worth, Singal goes on to say nice things about the letter, overall. And I agree with him that such a strident condemnation of trigger warnings is a bit over the top if taken at face value. Ellison's actual point, I suspect, was to inform students that they shouldn't expect trigger warnings in the classroom—that they should steel themselves for a kind of education that is occasionally uncomfortable.
Chicago President Robert Zimmer doubles down on my interpretation of Ellison's vision in his Wall Street Journal op-ed today. Zimmer writes:
Universities cannot be viewed as a sanctuary for comfort but rather as a crucible for confronting ideas and thereby learning to make informed judgments in complex environments. Having one's assumptions challenged and experiencing the discomfort that sometimes accompanies this process are intrinsic parts of an excellent education. Only then will students develop the skills necessary to build their own futures and contribute to society.
Is Zimmer appealing to people who hate political correctness? Sure. But we desperately need university leaders to make more of these pronouncements from time to time, because there are plenty of activist students, anti-speech professors, and just-doing-my-job bureaucrats at the university who are eagerly attempting to move the Overton Window away from uncomfortable learning. Take this response to the Ellison letter, from a sociologist who sarcastically points out that if college is supposed to be "harrowing," we make it more dangerous by getting rid of smoke detectors: "'We think college should be a harrowing trial-by-fire. A true phoenix rises from the ashes, so we don't have 'smoke detectors' or 'alarms.'"
This is the fundamental mistake of the anti-speech left: conflating physical safety with emotional safety. Of course the university is obligated to protect its students from actual harm. It is not obligated to protect them from emotional turmoil, because such an obligation would be both impossible to meet—different people are bothered by different things—and counterproductive to the university's educational mission.
At the same time, we shouldn't be naïve about the University of Chicago's actual record on free speech. Tyler Kissinger, formerly the president of UC's student government, responded to Ellison's letter by accusing the university of "refusing to submit itself to the same sort of 'critical inquiry' it champions." He writes that the administration is more obsessed with safe spaces than the students, and frequently walls itself off from criticism by failing to meet with students and address their concerns.
Kissinger's objections are a reminder that while angry leftist students are often the ones demanding changes that threaten free expression on campus, it is the administration that enforces these changes. Often, universities do this to protect their own reputations: to quash forms of expression that they find embarrassing or problematic from a PR perspective.
The challenge for enemies of political correctness on campus is to persuade students that they actually lose power when they pressure the administration to crack down on unpopular speech—that by undermining First Amendment principles, students injure their own ability to organize, thereby undercutting their activism. If liberal students got what they wanted and enshrined trigger warnings, safe spaces, and speech codes on campus, they would be shooting themselves in the foot.
It's precisely because university administrations often cannot be trusted to promote free expression that the Ellison letter is such an encouraging development.