Trump Wants Police to Keep Getting Military Equipment From the Pentagon
Donald Trump says he would rescind President Obama's executive order halting the transfer of military equipment to police.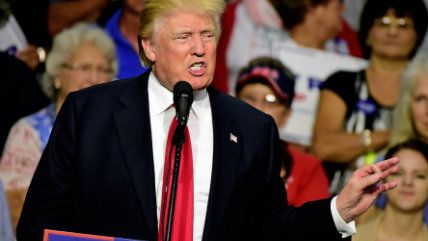 (Marc Golub/Polaris/Newscom)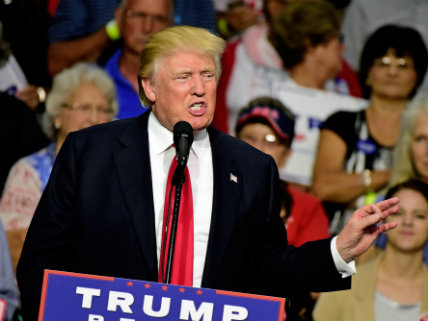 Donald Trump says he would restart a controversial federal program that transfers surplus military equipment to local police departments, The Guardian reported Monday night:
During discussions at a fraternal order of police lodge in Akron, Trump was asked by one questioner if he would return "military equipment" to law enforcement, according to a pool reporter who observed the event.

"Yes, I would," said Trump, who added that the current situation facing law enforcement was "ridiculous."
President Obama issued an executive order last May banning the transfer of several categories of military surplus equipment, such as bayonets, grenade launchers, heavy machine guns, and tanks, from the Pentagon to local police departments under the federal government's 1033 program.
The Obama administration came under a hail of criticism from Black Lives Matter and civil rights groups who said the 1033 program contributed heavily to the militarization of police on display during the protests in Ferguson, Missouri.
In a Fraternal Order of Police presidential candidate survey released last month, Trump also pledged to rescind the executive order, calling it an "excellent program that enhances community safety."
Trump has in recent months worked to frame himself as the "law and order" candidate, bashing the Obama administration's commutation efforts for putting "bad dudes" back on the street. "There is no compassion in tolerating lawless conduct," Trump said in a speech last Tuesday. "Crime and violence is an attack on the poor, and will never be accepted in a Trump Administration."
However, the White House is also now re-reviewing the 1033 program after meeting with law enforcement leaders in the wake of the fatal shootings of five police officers in Dallas. Law enforcement groups have been pressing the administration to revive the program, saying local police departments are now unable to afford vital equipment.
Jim Pasco, the executive director of the FOP, said he was "pleased" to hear Trump's comments. "We think the 1033 program is extraordinarily important to public safety and officer safety," Pasco said.
The Fraternal Order of Police state chapters will hold elections on September 16 to decide whether to endorse Trump, Clinton, or neither candidate in the upcoming presidential election.
As my colleague Anthony Fisher wrote, the 1033 program has transferred $2.2 billion worth of military equipment to local and state police since 2006, including:
7,091 trucks ($400.9 million); 625 mine-resistant vehicles (421.1 million); 471 helicopters ($158.3 million); 56 airplanes ($271.5 million); and 329 armored trucks and cars ($21.3 million)
83,122 M16/M14 rifles (5.56mm and 7.62mm) ($31.2 million); 8,198 pistols (.38 and .45 caliber) ($491,769); and 1,385 riot 12-gauge shotguns ($137,265)
18,299 night-vision sights, sniper scopes, binoculars, goggles, infrared and image magnifiers ($98.5 million); 5,518 infrared, articulated, panoramic and laser telescopes ($5.5 million)
866 mine detecting sets, marking kits, and probes ($3.3 million); 57 grenade launchers ($41,040)
5,638 bayonets ($307,769) and 36 swords and scabbards.
Pasco said he met with White House officials again Monday to discuss the issue and said "the president is committed to reviewing the program."
You can read more Reason coverage on the DoD's 1033 Program here.
Correction: An earlier version of this article incorrectly stated that President Obama's executive order halted the entire 1033 program. In fact, it only banned the transfer of some categories of surplus military equpment.