Trump Reconsidering Immigration Stance, Gary Johnson Says Romney Has a 'Guaranteed' Spot in Cabinet, Child Suicide Bomber in Turkey Kills More Than 50: A.M. Links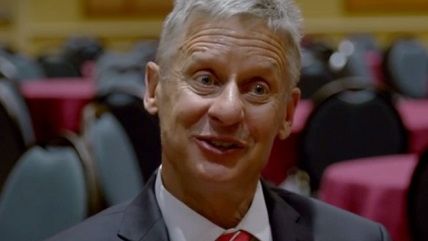 Reason TV

Republican presidential nominee Donald Trump may be reconsidering the idea of mass deportations. Democratic presidential nominee Hillary Clinton is outspending Trump. Libertarian presidential nominee Gary Johnson says 2012 Republican presidential nominee Mitt Romney would have a "guaranteed" spot in his cabinet. Green Party presidential nominee Jill Stein visits flood-hit Baton Rouge.

Former Secretary of State Colin Powell pushes back on the Clinton campaign's attempt to blame his recommendation for Hillary Clinton's use of a private unsecured email server when she served as secretary of state.
A child suicide bomber in Turkey, killed at least 54 people at a Kurdish wedding party, including many children.
North Korea threatens nuclear strikes after joint U.S.-South Korean military exercises.
A man in Burma was indicted for insulting the military.
Olympic medals in Tokyo in 2020 may be made from discarded smartphones.