Libertarianism: The Choice of a New Generation in Politics (and Cable News)
Gary Johnson is making a play with Millennials in a proportion that Clinton and Trump can't touch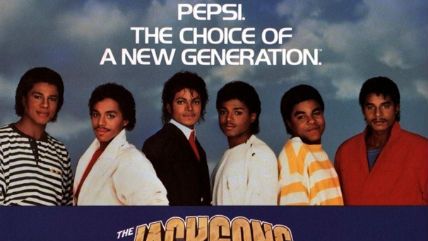 The Pew Research Center, which does some of the best public-opinion research out there, came out yesterday with a new national presidential poll showing Hillary Clinton with 41 percent, Donald Trump 37 percent, Gary Johnson 10 percent, and Jill Stein 4 percent. Those numbers are very close to the consensus snapshot of the race right now, so they're not very interesting in themselves, but the detail in the cross-tabs reinforces an important point we've been making here for a while: Millennial support for the Libertarian Party nominee is damn near astonishing.
Here's how Pew puts it in its write-up:
Johnson's supporters are younger on average than voters who back either Clinton or Trump. Nearly a third (32%) of Johnson's supporters in the four-way contest are younger than 30. This is roughly double the share of Clinton (15%) or Trump supporters (12%) who are younger than 30. Only 29% of Johnson backers are 50 or older, compared with 50% of Clinton supporters and 63% of Trump voters.
In other words, Clinton and Trump are cable news, Johnson is the internet. Democrats and Republicans are from the Cold War, Libertarians from the 21st century. America's third party is increasingly a hit with its soon-to-be most important generation. Consider these national poll results over the past three weeks:
18-24-year-olds:
GJ 35% HC 30% JS 14% DT 12% (IBD/TIPP, July 29-Aug. 4)
18-29s:
HC 41% GJ 23% JS 16% DT 9% (McClatchy/Marist, Aug. 1-3)
HC 38% DT 27% GJ 19% JS 9% (Pew, Aug. 9-17)
HC 41% DT 22% GJ 18% JS 7% (Economist/YouGov, Aug. 6-9)
HC 48% GJ 17% DT 15% JS 12% (Economist/YouGov, July 30-Aug. 1)
18-34s:
HC 50% DT 23% GJ 19% (Fox News, July 31-Aug. 2)
The usual caveats apply: Kids don't vote, geezers do, Hillary still has a commanding lead among Snake People, there are worse-looking polls than this, and support for third-party candidates usually erodes as Election Day creeps closer (though this is stubbornly not happening to Johnson thus far). Still, that's a non-major-party presidential candidate polling occasionally in second place and even once in first among the most ballyhooed generation since the Boomers. And that candidate ain't Green.
Indeed, CNN on Wednesday night conducted a Green Party town hall with Jill Stein and Ajamu Baraka, and the ratings lagged way behind those of the Libertarian ticket's townhall two Wednesdays before: 778,000 overall viewers (including 278,000 in the targeted 25-54 demographic) compared to 1.61 million and 642,000. CNN learned that with Libertarians it can score a rare prime-time win in demo; with Greens, not so much. Note, too, that the percentage of Libertarian viewers in demo on CNN was greater than those of the Greens, 39.9 to 35.7.
As I pointed out in my mini-obit to Roger Ailes' Fox career, the libertarian-flavored shows over at 1211 Avenue of the Americans have noticeably higher percentage of their viewers from the targeted demo—and note that it's called "targeted," because that's who television advertisers are seeking to influence—than the rest of the other show there. Looking at just my former employer, the Fox Business Network (where the libertarian show I co-hosted pulled comparatively excellent demo numbers), in the second quarter of this year our good friend Kennedy comes in a close third on average demo, with 18,000 households per episode (Lou Dobbs and Stuart Varney are first and second, with 32 and 21, respectively). But look how FBN's shows rank when you stack them by percentage of their overall audiences that are between the ages of 25 and 54:
20.8% Stossel
20.2% Kennedy
18.8% Mornings w/ Maria Bartiromo
17.8% Wall Street Week
16.9% Making Money w/ Charles Payne
16.5% Risk & Reward w/ Deirdre Bolton
15.9% Lou Dobbs Tonight
15.8% After the Bell
15.6% Countdown to Closing Bell
15.1% Intelligence Report w/ Trish Regan
11.9% Varney & Co.
Gee, notice anything unusual there?
The same trend—the most libertarian shows get the youngest audiences—is also true of the Fox News Channel, but I'll save that number-crunching for a later day. The bottom line is this: The existing, still-dominant audiences, for both politics and cable news, are dying. But they are not being replenished by new recruits among the younger set. Nope, those people are doing their own damn thing, and one of the only draws that gets them anywhere near the older carcasses of power is libertarianism. See a group of young Republicans? They are probably libertarian. Kids watching cable news? Ditto.
The potential implications here, not just for libertarianism but for the future of American politics, is fantastic.